The 18 Best American-Made Furniture Companies of 2022
Here, the best American-made furniture to add to your home.
To find the best made-in-America furniture, we considered factors such as their materials, craftsmanship, return policies, shipping options, and product variety. Our favorite American-made furniture brands include Floyd and Burrow , which both offer modular furniture for reasonable prices, as well as classic brands like Stickley and Vaughan-Bassett .
Experts also suggest that materials really count when it comes to American-made furniture. "There are rigorous industrial and manufacturing standards in the natural materials market within the U.S. that aren't as stringent everywhere else," explains Robin Burrill, president and CEO of Signature Home Services.
Not only does buying American-made furniture support our local economy, but it's also a more eco-friendly purchase, as the goods don't have to be shipped overseas.
Floyd Courtesy of Floyd View On What We Like Reasonable pricing
Focus on sustainability
Easy to assemble
Customization options What We Don't Like Lots of packing materials A relative newcomer to the furniture scene, Floyd has quickly become a popular option for contemporary furniture. The brand was founded in 2013 with the goal of making furniture more sustainable, and today, it offers a range of indoor and outdoor furniture. Floyd offers sofas, tables, shelves, bed frames, and more, and there are numerous customization options for most of its pieces, allowing you to mix and match configurations, wood finishes, and fabrics. Some products also have add-on components—for instance, The Floyd Bed can be outfitted with an add-on headboard or under-bed storage. Floyd furniture is shipped to your doorstep via standard ground shipping, and you'll have to put it together yourself (don't worry, assembly is actually quite easy). You can return unwanted products within 30 days, but keep in mind that there's a 10 percent restocking fee, and everything needs to be in its original packaging. If you want to return a made-to-order item, such as a sofa, note that it will be subject to a 50 percent processing fee, unfortunately. Floyd still does its part to help the environment, as well, with a variety of sustainability initiatives. As of 2022, it's one of the first carbon-neutral furniture brands, and in the coming years, the brand plans to launch a resale and refurbishment program to extend the useful life of its products. Return Policy: 30 days, 10% restocking fee | Delivery Options: Ground or freight shipping | Average Wait Time for Bespoke Items: Not listed What Our Testers Say "Buyers will appreciate the little details that make the Floyd brand stand out throughout the unpacking processes. In addition to the bold, orange-lettered "Floyd" logo printed on the boxes, the inside cover reveals the greeting 'Hi there, I'm a Floyd sofa.' It sets a warm, comfy tone."—Karen Tietjen, Product Tester
Maiden Home Maiden Home View On What We Like Top-tier materials and construction
Free fabric swatches
White glove delivery What We Don't Like Potential size tolerances
No seasonal sales or promotions Maiden Home offers a modern take on classic styles, and its furniture is made by craftspeople in North Carolina. While Maiden Home does offer many designs that would look right at home in a traditional-style interior, it also has furniture with unexpected silhouettes and eye-catching fabrics that would be the focal point of any room. You can choose from sectionals, sofas, chairs, beds, dining furniture, and more. Plus, each piece is crafted using high-quality materials, including kiln-dried hardwood, high-resiliency foam, and premium upholstery materials. Because everything from Maiden Home is hand-crafted, the brand does explain that there are potential size tolerances—the final piece may be up to a 1-inch difference from the dimensions listed. (Fabric colors and wood finishes may differ slightly, as well.) Depending on what you purchase, the furniture will either be shipped via standard ground carriers or delivered through a white glove service, which includes assembly in your home. Return Policy: 30 days, minus 10% of your purchase price | Delivery Options: White glove delivery or ground shipping | Average Wait Time for Bespoke Items: 8-10 weeks
Burrow Burrow View On Burrow What We Like No tools required for assembly
Ability to customize designs
Free shipping What We Don't Like Only one-year warranty If you move frequently, you'll love the concept behind Burrow, another relatively new brand that offers contemporary furniture. Burrow sells a variety of modular designs, such as sofas, beds, tables, and more, and what's unique about its products is that they can be assembled without any tools and are easy to disassemble, as well. When you buy furniture from Burrow, you're able to customize various details of the design to suit your style—for instance, the popular Nomad Sofa comes with different arm styles, leg finishes, and back cushions. Burrow offers free ground shipping on all orders, and it has a collection of ready-to-ship furniture that can be at your door in just a few short weeks. The prices are middle-of-the-road, and the brand offers a 30-day return period for its products. However, there are a few caveats to keep in mind if you decide to send a piece back. Specifically, there's a 10 percent return shipping fee, and if you don't have the original packaging, it bumps up to 20 percent.
Return Policy: 30 days, minus 10% of your purchase price | Delivery Options: Ground shipping | Average Wait Time for Bespoke Items: N/A What Our Testers Say "Burrow is known for its modular design, and the Nomad Sofa is one of their most popular pieces of furniture. The seats connect using a latch mechanism on the bottom. Then I added the arms, backs, legs, and voila! The sofa was complete. I didn't need any tools."—Katie Melynn, Product Tester
Schoolhouse Courtesy of Schoolhouse View On What We Like Unique styles
Heirloom quality
Ethically sourced materials What We Don't Like Not all furniture can be returned
Limited selection If you're looking for a few accent pieces to liven up your living space, the American-made furniture from Schoolhouse is worth a look. This brand, which has been around since 2003, manufactures all its decor in Portland, Oregon, and while it doesn't have the largest selection, its furniture is heirloom-quality (meaning it will last for generations) and quite unique. Just look at the June Side Table, which is crafted from FSC-certified maple wood and has adorable scalloped aprons. In addition to furniture, Schoolhouse sells lighting, housewares, hardware, and decor, and many of its materials are ethically sourced from around the globe. The brand does sell select products that it doesn't craft in-house, so you'll want to read the fine print if you're specifically looking for American-made furniture. Additionally, be sure to look at each item's individual return policy, as some furniture pieces cannot be returned. Return Policy: 30 days on select products | Delivery Options: Ground shipping | Average Wait Time for Bespoke Items: N/A
The Joinery Courtesy of The Joinery View On What We Like Solid hardwood designs
Customize any design
Lifetime warranty
Certified B Corp What We Don't Like Extremely long lead time
Expensive You'll be hard-pressed to find more beautiful and well-made wooden furniture than the products sold by The Joinery. The brand is based out of Portland, Oregon, and every one of its pieces is handmade by a single builder using traditional woodworking techniques and solid wood. In fact, the brand is so certain that their pieces will stand the test of time that they offer a lifetime warranty on their furniture. The Joinery offers bedroom, living room, office, and dining room furniture in a variety of both classic and contemporary designs, and you can customize the size and finish of any products to perfectly fit your space. As an added bonus, The Joinery is a certified B Corp, which means it adheres to high standards for social and environmental performance. The downside of shopping from this brand is that the prices are premium (to be expected considering the quality), and the lead times are often longer than five months. Return Policy: 14 days | Delivery Options: Consumer pickup, white glove delivery, curbside delivery | Average Wait Time for Bespoke Items: 20-25 weeks The 16 Best Places to Buy Furniture of 2022
Stickley Courtesy of Stickley View On What We Like Classic construction techniques
Focus on sustainability
Limited lifetime warranty on most pieces What We Don't Like Can't purchase online Many of the brands on this list are fairly new, but not Stickley. This furniture brand, which specialized in high-quality wood pieces, was founded in the 1880s, and to this day, the majority of its furniture is crafted in either New York or North Carolina. Stickley currently sells everything from sectionals to bookcases to rugs, but it's still known best for its beautiful solid wood pieces, which feature traditional, modern, and Arts and Crafts-style designs. In addition to its dedication to quality, Stickley prioritizes sustainability—the brand partners with lumber suppliers that practice selective harvesting, wastes minimal materials, and participates in the Sustainable Furnishings Council. Most of its furniture is backed by a limited lifetime warranty, with the exception being dining and office chairs. Unfortunately, Stickley furniture can't be purchased online through the brand's website. Instead, you'll have to visit one of their physical locations or another furniture store that carries the brand. Return Policy: Varies by retailer | Delivery Options: Varies by retailer | Average Wait Time for Bespoke Items: 6-10 weeks What Our Testers Say "My father is a big fan of Stickley furniture, and he purchased an oversized wood and leather rocking chair from the brand when I was in high school. More than 10 years later, he still sits in it to read his paper every morning, and I swear it looks as good as the day he bought it!"—Camryn Rabideau, Product Tester
Allform Courtesy of Allform View On What We Like Modular designs
Tool-free assembly
Lifetime warranty
Free delivery What We Don't Like Limited design options If you're looking for a made-to-order sofa that you can customize to fit your home, Allform should be on your list. Not only does this brand build its sofas in America, but it also offers free delivery, a 100-day in-home trial, and a lifetime warranty on its products. The brand also focuses on using sustainable materials—all metal components consist of at least 95 percent recycled metal, and 100 percent of padding comes from recycled materials. Really, what more could you ask for? Allform solely sells armchairs and sofas, all of which have the same basic silhouette, but if you like the look of its products, you can tailor the design in a variety of ways. You're able to adjust features like the upholstery fabric, leg finish, and configuration, and while your new sofa will arrive via regular ground shipping, the good news is that it can be assembled without any tools. Return Policy: 100-day trial | Delivery Options: Ground shipping | Average Wait Time for Bespoke Items: Up to 10 weeks
Vaughan-Bassett Courtesy of Vaughan-Bassett View On What We Like Classic furniture designs
Solid wood construction
Focus on eco-friendly practices What We Don't Like Can't purchase directly from brand If you've ever spent time browsing through your local furniture store, chances are you've seen Vaughan-Bassett designs. This brand is the largest maker of solid wood bedroom sets in the U.S., and all of its pieces are made by expert craftspeople in Virginia. As you browse its catalog, you'll find that most Vaughan-Bassett furniture has a classic, timeless style, but it also has the Artisan & Post brand, which has a more rustic aesthetic. In case you weren't sold on the high-quality solid wood furniture, this brand participates in a "One for One" program, where it plants a tree to replace every one that it harvests. Additionally, more than 99 percent of the lumber used comes from within 500 miles of the factory, helping to minimize shipping-related pollution. This is another brand that doesn't sell its products online but is carried by a wide range of furniture stores across the country. Return Policy: Varies by retailer | Delivery Options: Varies by retailer | Average Wait Time for Bespoke Items: N/A
Inside Weather Inside Weather View On What We Like Customize any product
Focus on sustainability
Free fabric swatches
365-day home trial What We Don't Like "Environmental fee" on any returns Inside Weather makes its fun contemporary furniture right in sunny California, and you can customize any of its products from top to bottom. For instance, with the Custom Nox Sofa, you can choose the arm style, upholstery fabric, pillow configuration, and even the pillow shape! All the brand's products are made to order (which can admittedly lead to longer wait times), and the brand employs a number of sustainable practices that will make you feel good about your purchase. Despite the fact that every piece of furniture is custom, the brand has a more generous return policy than most. It has a 365-day home trial where you can live with the product and decide if it's right for you, and if you decide you don't like the product, you can return it for a refund minus an "environmental fee" that's 25 percent of the purchase price. If you know it's not for you right away, you can initiate a return within 14 days and only get charged a 10 percent fee. Return Policy: 14 days minus 10%, 365 days minus 25% | Delivery Options: Ground shipping | Average Wait Time for Bespoke Items: Varies by product
Vermont Woods Studio Courtesy of Vermont Woods Studio View On What We Like Sustainably sourced hardwood
Wide range of styles
Lifetime guarantee What We Don't Like High restocking fee
Only delivers to the contiguous U.S. You'll find all manner of wood furniture at Vermont Woods Studio, which (unsurprisingly) is based in Vermont. The brand carries designs from craftspeople living throughout the state, and as such, it carries a variety of furniture styles, including Shaker, modern, traditional, midcentury, and more. You can shop a wide range of products through the brand's online store, including bedroom, living room, dining room, office, and outdoor furniture. Plus, everything is backed by a lifetime warranty, so you know the quality is top-tier. While its custom furniture can have several months of wait time, Vermont Woods Studio does have a few collections of "quick ship" designs that are often available in a few weeks. The brand only delivers to the contiguous U.S. (which means no Alaska or Hawaii), and if you choose to return your purchase, you'll be responsible for return shipping, as well as a 25 percent restocking fee. Return Policy: 30 days, 25% restocking fee | Delivery Options: White glove or ground shipping | Average Wait Time for Bespoke Items: Varies by product
Simplicity Sofas Courtesy of Simplicity Sofas View On What We Like Designed to fit through small doorways
Free threshold delivery
Replaceable components
Tool-free assembly What We Don't Like Extremely long lead time
No returns If you've ever struggled to fit a too-large couch through the doorway into your living room, you'll understand the appeal of Simplicity Sofas. True to its name, this brand solely sells custom-made sofas, and it stands out from competitors thanks to the fact that all its designs will fit through 15-inch wide doors and stairways. There are a variety of sofa sizes and styles to choose from, and you can customize your piece from top to bottom, choosing your preferred fabric, cushion style, cushion material, and more. Simplicity sofas are made to order, and you'll likely wait around a year for delivery. When your product is ready, the brand offers free threshold shipping (with an option to upgrade to white glove delivery), and your sofa can be assembled in minutes without any tools needed. If pieces of your sofa wear out over time, the brand is able to replace individual components like the arms, base, and cushions—great for keeping furniture out of the landfill—but keep in mind that it doesn't accept returns on any of its products. Return Policy: No returns | Delivery Options: Threshold or white glove delivery | Average Wait Time for Bespoke Items: 12 months The 11 Best Couches of 2022 for Style and Comfort
Eastvold Furniture Courtesy of Eastvold Furniture View On What We Like Unique modern designs
Accepts custom orders
Rush orders available What We Don't Like Premium prices
Return policy not specified Eastvold is a smaller brand that's run by a husband and wife design team. Each of its designs, which are typically modern and crafted from solid wood, is handmade in Minnesota, and the Eastvold team is happy to work with you to customize any piece to suit your needs. The brand sometimes has select items in stock and ready to ship, but most of its pieces are made-to-order and will be shipped in around three to five weeks (still much faster than other brands!). When you purchase furniture from Eastvold, such as the stunning Mora Credenza, you're able to select the type of wood you'd like used—in this case, you have the choice between walnut, white oak, and blackened ash. If you have an idea for a piece of furniture that you can't find anywhere, the brand will also work with you to create a fully custom order. Eastvold does offer the option for rush orders if you need the furniture ASAP, but be prepared to pay a premium price for the top-tier craftsmanship.
Return Policy: Not listed | Delivery Options: Curbside or white glove delivery | Average Wait Time for Bespoke Items: 3-5 weeks
James+James Courtesy of James+James View On Amazon View On What We Like Wide range of styles
Ability to customize most products
Select items ship for free What We Don't Like Not everything is made by the brand
No returns James+James was started in a garage in 2011, and since then, the brand has grown to support more than 100 team members who work to build affordable solid wood furniture in Northwest Arkansas. The brand creates pieces for the bedroom, living room, dining room, and office, and they even have a small selection of porch swing beds! As you browse their collection, you'll find a wide range of styles, from traditional to rustic to contemporary, and there are ways to customize most designs, such as adjusting the size and finish. For desks, you can even add on accessories such as built-in power outlets or phone chargers. Much of the brand's furniture qualifies for free curbside shipping, and on average, most items are ready to ship in around 12 weeks. Because everything is made to order, the brand doesn't accept returns. And while the majority of products available on the James+James website are built by the brand, there are select items, such as the rug section, that they don't manufacture. Keep this in mind if you're specifically looking for American-made designs. Return Policy: No returns | Delivery Options: Curbside freight, white glove in select locations | Average Wait Time for Bespoke Items: 12 weeks
Home Reserve Courtesy of Home Reserve View On What We Like Replaceable components
Built-in storage
Unique 30-day trial
10-year warranty What We Don't Like Complicated assembly If you view furniture assembly as a fun puzzle, chances are you'll like Home Reserve. This made-in-America furniture brand has an extremely unique business model—all of their sofas, chairs, and sectionals arrive fully unassembled, and you're charged with putting them together. You have to build the frame, put covers on the cushions, and secure everything in place, which often takes several hours. The benefit, however, is that the furniture is easy to customize and more affordable than similarly sized pieces from other brands. When you shop at Home Reserve, you're able to select the exact fabric and furniture configuration you want, and many of the fabrics are even machine-washable, which is ideal for homes with pets or kids. Every component can be replaced if it ever breaks or wears out, allowing you to use the sofa for longer, and you can even purchase new upholstery fabric to change the look of your furniture. Every seat has built-in storage to stash living room accessories, and the brand offers a unique 30-day trial where you're able to test out just one seat section to see if you like it. Return Policy: 30 days | Delivery Options: Ground shipping | Average Wait Time for Bespoke Items: 2 weeks
Emblem Courtesy of Emblem View On What We Like Commercial-quality construction
Stain-resistant fabric
Free fabric samples
Relatively quick lead time What We Don't Like Only delivers to the contiguous U.S.
No return policy listed For eye-catching modern furniture that's made for busy households, Emblem is a top choice. This brand is a newcomer to the American-made furniture scene, having been created in 2019, but it quickly gained popularity thanks to its sleek designs and commercial-quality construction. Among its product range, you'll find a variety of chic seating options, such as the Bend Sofa, which features a tubular steel frame and lush velvet upholstery. All of Emblem's furniture is contract grade, meaning it's designed to withstand the demands of high-use commercial spaces. This durability is ideal for busy homes, and all the pieces are designed and manufactured in California. Most furniture ships in around three weeks for a flat rate, and everything is backed by a five-year warranty. However, the brand doesn't have a return policy listed, except to note that shipping damage must be reported within 14 days. Return Policy: Not listed | Delivery Options: Freight or white glove delivery | Average Wait Time for Bespoke Items: 3 weeks
Fyrn Courtesy of Fyrn View On What We Like Focus on sustainability
In-home trial option
Free "design kit"
Furniture buy back program What We Don't Like Limited product range Fyrn was founded by a fourth-generation furniture maker, and the San Francisco-based brand is dedicated to creating sustainable options for eco-conscious consumers. Its current line of furniture includes a modest selection of seating and tables, and everything has a fairly cohesive style made from solid wood with metal brackets. However, you're able to customize your designs by changing the wood type and bracket color, and with chairs, you can even add leather to the seat or back. To make sure you love your furniture, Fyrn offers a number of unique buying options. First, you can order a free "design kit," which includes samples of all the wood finishes, bracket colors, and leather colors. The brand also offers a three-week in-home trial on a single chair, and if you decide you don't like it, you can return it with no fees. There's even a buy-back program to help prevent usable furniture from ending up in the landfill. Return Policy: 3 weeks | Delivery Options: Local pickup or ground shipping | Average Wait Time for Bespoke Items: Up to 6 weeks
Sabai Sabai View On Sabai.design What We Like Focus on sustainability
Eco-friendly materials
Furniture buy-back program
Free fabric swatches What We Don't Like Limited product range Sabai offers chic, eco-friendly sofas, sectionals, and chairs, all of which are crafted in North Carolina. The designs in its Essentials Collection feature a classic square-arm silhouette and chic tapered wooden legs, and the furniture comes in a variety of eco-friendly upholstery options, including recycled velvet and upcycled polyester materials. The products are made using FSC-certified wood and other nontoxic materials, and the brand has a repair program that allows you to replace most components of their furniture for a reasonable price. When you buy Sabai furniture, such as The Essential Sofa, you're able to customize the upholstery fabric, leg finish, and cushion style. It will ship in around four to five weeks and arrives in flat-packed boxes with components you'll need to assemble. You can return furniture within 30 days for a $50 pickup fee, and the brand also has a buy-back program to keep its products out of landfills. Return Policy: 30 days, $50 return fee | Delivery Options: Ground shipping | Average Wait Time for Bespoke Items: 4-5 weeks
Where to Find Solid Wood Furniture That's Worth the Money
Historically, wood has been the preferred material for high-quality furniture. While the industrial revolution introduced cheaper alternative materials like plastic, steel, acrylic, and aluminum, solid wood furniture never went out of style. There's something timeless about wood furniture, not to mention that it's durable, versatile, unique, and easy to maintain.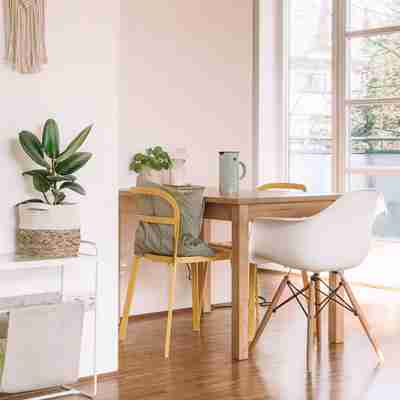 Furniture made from real wood like maple wood, oak wood, or solid pine wood, will last much longer than pieces made from processed wood, and though solid wood furniture might be more expensive, it's almost always worth investing in.
Learning about solid woods will give you a discerning eye to help you find quality wood furniture designed to stand the test of time.
In this guide, we'll outline the basics of solid wood, before showcasing great brands and pieces of high-quality furniture that are worth your money.
What is Solid Wood Furniture?
So what exactly is solid wood furniture?
David Charne, the co-founder of Fyrn, broke it down in one simple sentence for us, saying: "Solid wood furniture refers to any furniture that is made of solid, natural hardwood, not particle board, plastics, or other synthetic materials."
"Solid wood furniture refers to any furniture that is made of solid, natural hardwood, not particle board, plastics, or other synthetic materials."
By understanding how solid wood furniture is built, you can inspect the pieces you're considering so you know they'll last for years to come.
"Solid wood furniture is built almost exclusively with solid wood and doesn't have any plywood or fiberboard," explained Bryan Ferris, a custom furniture builder, and designer located in San Diego, California.
"Most often, solid wood furniture is made with all wood joinery and uses as few nails and screws as possible because screws and nails don't tend to hold up in the long term. An ideal piece of solid wood furniture will be heirloom quality and will last for generations to come," adds Feriss.
6 Places to Buy Solid Wood Furniture
Known for its stunning dining chairs and stools, Fyrn is the brainchild of Ros Broughton and co-founder David Charne. Fyrn was founded to create quality furniture that will last a lifetime. Its pieces are made from solid, natural wood and designed to minimize waste and last for generations.
With a free in-home trial, a buy-back policy, and an exchange program, they aim to ensure every piece of furniture lasts as long as possible and stays out of the landfill. All parts of Fyrn products are 100% repairable and replaceable for life.
Worth checking out:
The Stanyan Barstool is another excellent choice. It's durable and lightweight enough to stand up to use in restaurants nationwide, but it fits right in with any home environment. The Stanyan Barstool is available in a range of wood stains, bracket finishes, and material options for complete customization. These work wonderfully around a kitchen island or bar-height worktop.
The Mariposa Chair received Interior Design Magazine's 2017 Best of the Year Award, and it's made using North American hardwoods, genuine leather, and patented stainless steel and aluminum hardware. The Mariposa Chair is super comfy, and it comes in a range of wood stains, bracket finishes, and material options. The Mariposa is perfect for sitting around your dining table or even as a welcoming spot to sit in your entryway.
We recently got our hands on the Mariposa, check out our experience with it in the below video:
‍
↦ Shop now at
Created with luxurious modern homes in mind, Maiden Home offers quality, design-driven contemporary furniture for every home. With handcrafted furniture made in the United States by expert craftsmen, every piece is held to the highest standards before reaching the customer.
Maiden Home strives to offer a standout blend of comfort, quality, and beauty. Plus, they provide a complimentary white glove delivery service and shipping process, ensuring satisfaction.
Worth checking out:
The Hayes Chair is a comfortable chair with a cool, contemporary design — perfect for relaxing with a good book. With clean lines and natural materials, it has a luxurious look that feels inviting and modern. It features white hair-on-hide leather for the seat and back with a solid wood frame available in either beech or walnut. The wood is hand-waxed for a matte, silky surface that enhances the natural solid wood grain.
The Reade Round Dining Table is an artistic piece that will make an eye-catching sculptural statement in any home. This solid wood dining table is expertly crafted table is made from solid ash wood and refined and has handcrafted column legs and an intricately detailed round tabletop. And you can customize this table for your home with multiple options for the finish and size before placing your order.
↦ Shop now at
Founded to simplify the furniture buying process, Burrow specializes in living room furniture and aims to provide better quality pieces at accessible prices. They reduce costs with direct delivery to customers, and every piece of furniture uses sustainably sourced hardwood, ensuring lasting enjoyment.
Worth checking out:
The Carta Credenza is a functional workhorse designed for to act as a living room storage unit or tv stand. It comes in walnut or oak, and it's suitable for most screens up to 65", with room for all your devices to fit underneath. Plus, it's part of the Carta collection, which means you can get a matching coffee table, side table, and bench to complete the look in your living room or den.
Read More: What Is a Credenza, and Do You Need One?
The Index Wall Shelves might look simple, but they feature a clever modular design that allows infinite expansion. So whether you need bookcases in the home office or a spot to display your home decor in your family room, these shelves will do the trick.
↦ Shop now at
With an emphasis on accessible price points and exceptional custom furniture, Inside Weather aims to ensure every customer gets exactly what they want. Each piece of furniture can be customized to match your home decor and personal tastes. In addition, Inside Weather pieces are produced in the United States, and everything is made to order, eliminating the retail and warehouse costs to save you money on quality furniture.
Worth checking out:
The Bondi Collection features a truly modular, made-to-order sofa collection for today's homes. You choose your desired number of seats and customize the fabric, layout, size, and finish to make it your own. So whether you want an armchair, loveseat, or a large sectional for the whole family, the Bondi Collection has what you're looking for.
↦ Shop now at
Interior Define was created to offer a better way to shop for a sofa, eliminating the challenge of finding high-quality, affordable furniture that's customizable. And they've since expanded to provide a range of home décor and furnishings. The brand aims to put you, the customer, in the designer's seat. You'll also have access to personal design advice from specialists to ensure you're happy with the result.
Worth checking out:
The Devon Coffee Table is a functional, eye-catching coffee table ideal for cozy accent chairs and sofas. It comes in oiled walnut and whitewashed oak with a wood veneer over solid wood for a sophisticated wood grain top. The table also features a spacious bottom shelf for magazines, books, or decorative items.
The Briar Side Table is made with solid wood and finished with elegant, beveled edges for a refined design. It offers plenty of storage space with two different size options to fit any space. With a modern design and an open lower shelf, the Briar Side Table is perfect for contemporary and mid-century modern homes, but it could also update a traditional space.
↦ Shop now at
Crate&Barrel offers high-quality products, timeless style, and exclusive design for both online and in-store customers. With an eye-catching architectural aesthetic and commitment to their customers, Crate&Barrell has developed an active online community. And through that community, they strive to help more people love every moment in their homes.
Worth checking out:
The Keane Driftwood Bed Frame is a solid wood bed that cuts a classic modern profile. It features a slat support system to make the box spring optional and is available in either king or queen size. There are a range of bedroom furniture pieces in the Keane Driftwood collection and this bed pairs perfectly with the Keane Driftwood 5-Drawer Wood Dresser.
The Tate Walnut Extendable Midcentury Dining Table draws inspiration from the style of the 1960s, with a streamlined shape and tailored profile. With conical tapered legs set at a subtle angle, it'll fit right in with any contemporary or mid-century modern home. And it's ready for extra dinner guests with two self-stored leaves that expand to seat up to 10 guests. Pair it with the Tate Midcentury Walnut Sideboard for a cohesive dining room aesthetic.
↦ Shop now at
Further reading: The 15 Best Extendable Dining Tables for Your Home
What to Look for in Solid Wood Furniture
Since many customers buy almost exclusively from online sources, you'll want to search for clues to the quality of a piece before you buy.
"Solid wood furniture is exactly as it sounds, furniture assembled from solid pieces of wood, as opposed to a hardwood veneer over an MDF (medium-density fiber) board. Solid wood furniture is typically heavier and more expensive than its veneer and MDF counterparts," says Betsy Moyer, Co-Founder of Retreat. "It's usually meticulously crafted with fine joinery to ensure it holds together for generations of use. We call this level of craftsmanship heirloom quality."
"Walnut, Oak, Maple, Hickory, & Teak are common hardwoods for furniture (and kitchen cabinetry too!)," adds Moyer. "They are typically more expensive than softwoods, and for a good reason."
The Difference Between Softwood and Hardwood
As you shop for solid wood furniture, you'll likely come across both softwood and hardwood pieces. Knowing which option is best for you will help you make the right choice.
"Although hardwood furniture has a higher price tag, it has benefits that make it worth the extra money," Brianna Hill, Founder of Over The Hill Designs, told Living Cozy.
"One benefit is that they [hard woods] are incredibly strong and resilient; this is why they can last for many generations without much maintenance. Another is that it's a renewable resource. This means that they can be replanted and have a positive environmental impact on the planet," adds Hill.
Hardwood furniture will last longer and provide you with more years of enjoyment in most situations. And if it gets scratched or dinged, a professional can refinish the surface to give your furniture new life, saving you money and keeping it out of the landfill. Unfortunately, the same is not always possible with softwood.
"Furniture made from hardwood has great longevity and is very durable."
"Hardwood is determined by how the tree grows, but most commonly referred to by its density," Bryan Ferris said. "In the United States, we have a few domestic hardwoods (walnut, cherry, oak, alder, and, hickory, maple) that are staples for building furniture, as well as some imported hardwood (mahogany, Sapele, and teak)."
"Furniture made from hardwood has great longevity and is very durable," Ferris continued. "Softwood types include pine, cedar, and redwood, to name a few. Furniture made from softwood is not ideal as it dents and scratches easily. That's not to say that you can't make furniture out of softwood, but it's often not considered high quality."
The Best Places to Buy Solid Wood Furniture [2022]
Have you ever heard the saying "They don't make them like that anymore"? Close your eyes and imagine your grandfather or grandmother, aunt or uncle, mentor or family friend; the one who has shared countless words of wisdom, including this phrase. Think about the feeling you get as you walk through their home. The warmth of the vintage solid wood armoire that has been handed down from generation to generation, or the smooth wooden side table with rich natural wood grain that brings the room to life. These are pieces that tell a family history, the works of art that are the centerpieces of memories, the things that make a house a home, the pieces that you might think are impossible to replicate...because "they don't make them like that do they?
Now before you start planning to sweet talk your entire extended family into bringing the family heirlooms to the next holiday or housewarming party allow us to let you in on a little secret, "they" actually do "make them like that". Not all quality furniture has to be found rummaging through antique sales or your great-aunt's attic. We have put together a list of places where you can buy quality, solid wood furniture that won't break the bank, but will bring a lifetime of happiness and the same feeling of nostalgia as your grandma's china cabinet. So. what does "that" actually mean? Two magic words: solid wood.
Solid wood furniture is a great choice for people looking for something with a bit more quality and character than furniture made from composite wood materials or MDF. Want to know where to buy solid wood furniture? Find out below!
What is "solid wood"?
Solid wood is a terminology used to distinguish natural wood from engineered and composite wood materials. Unlike these other materials, solid wood is made from solid pieces of lumber, not from thin veneers or wood strands bound by adhesives.
When you feel solid wood furniture, it could have some texture. It's noticeably heavier and more durable compared to furniture made with cheaper materials such as particleboard. You can expect solid wood to last decades as opposed to the few years cheaper furniture may last.
Why choose solid wood furniture?
Solid wood furniture has several advantages over other wood materials. It does not need additional chemicals and adhesives that are used to create engineered woods.
In addition, because it is solid pieces of wood and not thin layers of varying materials, it is easier to fix and touch-up. Often solid wood pieces can be assembled and disassembled as the wood will be more resistant to damage from unscrewing attached parts. Solid wood furniture also legitimately looks like wood furniture because it is made from actual, natural wood.
Solid wood furniture will be sturdier, more moisture resistant, and last longer, but tends to cost more due to its material quality. However, this doesn't mean getting solid wood furniture has to break the bank. Newer furniture retailers have started off with the goal to make solid wood furniture more accessible to buyers.
The longevity of solid wood furniture also provides the additional benefit of counteracting the culture of disposable consumerism. Low-quality manufactured wood products have shorter lifespans, ending up in landfills sooner, not to mention the packaging and waste that goes into buying a new piece of furniture every few years. There is a saying that goes "cheap is expensive". If you repeatedly buy cheap, it will be costly. When you only buy cheaper furniture made of engineered wood, you can expect the furniture to last for just a few years before having to purchase again. Solid wood furniture can be expected to last for decades. Over many years it is likely buying a single piece of high-quality furniture will be cheaper than repeatedly replacing cheap products.
We have compared 8 furniture retailers to see how they stack up in the solid wood category.
The best places to buy solid wood furniture in 2022:
Grain Wood Furniture offers 100% solid wood products at an exceptional value proposition.
All Grain Wood Furniture products are made with solid pine wood from only renewable forests in Brazil (no natural rainforests), so you know you are always buying environmentally conscious. Every piece of furniture at Grain Wood is lab tested for VOCs and formaldehyde so you can feel confident it's safe to have in your home
All pieces come flat-packed for easy assembly at home and are efficiently delivered right to your door. All orders include free shipping making it even harder to pass up. Grain Wood also operates at a low margin, so this means no time-consuming price comparisons, no deals hunting, no waiting for prices to drop. Shopping Grain Wood's solid wood furniture items means you are getting the very best price every single time.
Because Grain Wood Furniture also designs their furniture in house and works closely with the manufacturer, they provide incredibly high-quality customer service that you won't find at furniture marketplaces or stores that sell furniture from a variety of brands and manufacturers. At Grain Wood, customers can expect service representatives who are not just skilled in client interactions but are also experts in the details of the products.
All this combined means we believe is the #1 place to buy solid wood furniture.
has become the largest furniture retailer in the U.S. in recent years thanks to the growth of e-commerce.
They carry a variety of furniture and decorative products in an Amazon-like marketplace style. Searching for solid wood products will give you several different options which can be great for those who are undecided about what they want. Wayfair also hosts several of Grain Wood's solid wood furniture items.
If you choose to go this route, we highly recommend you read reviews and product details carefully. Because basically anyone can sell on Wayfair, products can vary wildly, and you should make sure you are not buying from an unethical or low-quality vendor.
Many products on Wayfair also are flat-packed, though they offer professional assembly services with your purchase for an added fee.
Ashley Homestore is a more traditional big-box furniture and home store that offers a variety of products
Their solid wood offering is more limited than other retailers, especially considering their size. But, you still might find a hidden gem.
If you have one of their stores in your area and you like a more traditional offline buying experience, you might choose to purchase from Ashley Homestore.
Overstock is another online furniture marketplace comparable to Wayfair. They offer a variety of different products from an equally large number of vendors. You'll even find Grain Wood Furniture's products listed on here (though often at higher prices due to Overstock taking a cut)
Once again, their wide selection of solid wood furniture is great, but reading reviews and researching the vendors is important to make sure the product and company are not going to give you unpleasant surprises.
This furniture start-up is offering a small selection of products, that seem to be of high design and material quality. Most of their products seem to use solid wood as the primary material. Though they are trendy, their relatively high prices seem to clash with the minimalist style of the furniture itself.
If you are not afraid of being an early adopter and are a fan of this trendy, modern and minimalist style you might find something you like at Floyd.
Crate & Barrel sells primarily modern looking furniture and also has some great solid wood options.
They are a traditionally brick and mortar retailer and its stores have great shopping experiences.
Pottery Barn has long been a staple for classic and chic furniture and home decoration. Similar to Crate & Barrel, they are traditionally a brick and mortar retailer, but also ship from their website.
As a more high-end curated store they offer items at a higher cost, but you can be more confident of the quality of construction and design for items from this retailer. If cost is not your main concern and you are looking for stylish trend-setting products you should consider Pottery Barn.
Known as an affordable furniture retailer of products made typically from particleboard, it may come as a surprise to learn IKEA has some solid wood furniture. IKEA's Hemnes collection has products that are "mostly solid wood".
This is a great option for those who really can't afford more expensive options and like this look. IKEA's collection page for Hemnes describes it as having a "traditional-style" which is not quite the Nordic furniture retailer's natural element.
The Hemnes collection is very limited in size - and not quite our style - so we've ranked this last on our list.
Conclusion
As you can see there are many solid wood options out there that will give you the best bang for your buck.
When picking out solid wood furniture, do your research on making sure it is entirely made of solid wood rather than just a few parts. At Grain Wood, many resources are put into a quality build, with every piece having a fine-tuned human touch. Learn more about how it's all made.