When I reviewed the JBL Charge 4 last year I stopped short of giving it a wholehearted recommendation as I suspected there was a more futureproof model on the horizon. Sure enough, the JBL Charge 5 was released in March, incorporating some minor design tweaks while upgrading the speaker's sonic output, Bluetooth connectivity and making it dustproof.
It's now also PartyBoost compatible, which means it can be paired with recent entries into JBL's portable speaker family, including the Boombox 2 , to create a stereo or multi-speaker audio setup.
While it lacks the smarts of the Sonos Roam , which recently received our coveted Best Buy award, the Charge 5 is wonderfully rugged and possesses the audio capabilities to position itself as one of the top portable Bluetooth speakers around.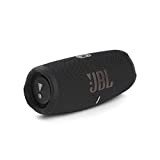 JBL Charge 5 review: What do you get for the money?
The JBL Charge 5 will set you back £160 and is available in a vast array of colours, including red, blue, white and great. That price is the same as its predecessor's at launch and the new model retains a cylindrical shape but is a couple of millimetres wider, taller and deeper, and 15g heavier. It still weighs under a kilogram though, making it eminently portable, which is key to its appeal.
There are a couple of other design tweaks worth noting. The Charge 5 is now IP67 certified (the Charge 4 was IPX7 rated), meaning it's completely protected against the ingress of dust as well as being able to withstand submersion in water up to 1m in depth for 30 minutes. The additional dustproofing is unlikely to set your pulse racing but it's a welcome upgrade, nonetheless.
The JBL logo adorning the front of the speaker has been restyled and the five LEDs that reflected the Charge 4's battery level have been replaced by a single vertical bar that serves the same purpose. The base of the speaker has also been updated and now has rubberised strips to better grip the surface it's placed on.
On the rear of the speaker, you'll find a USB-C charging port (a USB-C cable is included in the box) alongside a small rubber flap beneath which is a USB-A port, so the Charge 5 can double up as a power bank. The flap is significantly smaller than the one on the Charge 4, which gives the fifth-gen model a cleaner, more attractive appearance. The 3.5mm jack has been removed, however, so you can't hook up external devices via an audio cable.
Stated battery life is unchanged at up to 20 hours of audio playback per charge, which is plenty for a speaker of the Charge 5's size. That figure depends on the volume but either way that's plenty enough stamina for most uses; I used the speaker regularly for a week without needing to top it up.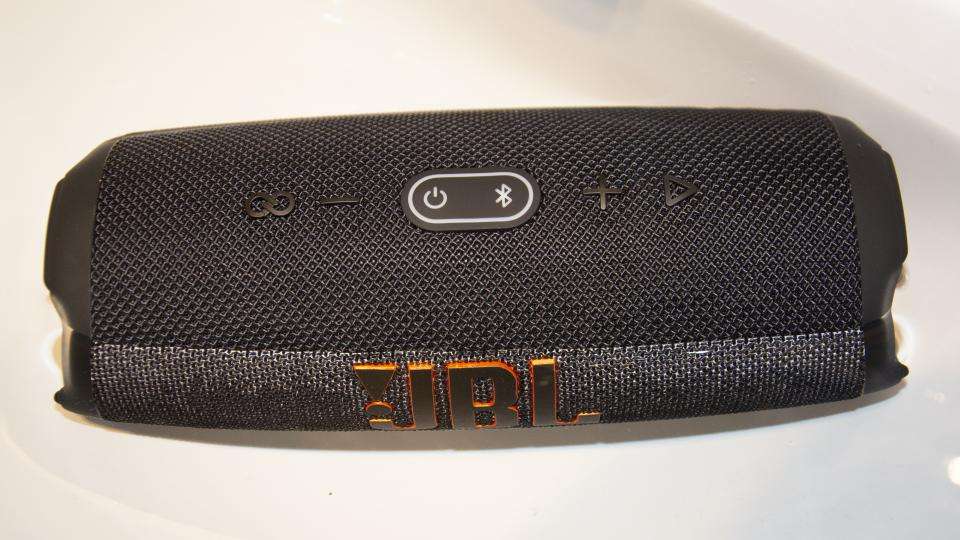 Physical controls closely match those found on the Charge 4. There are power and Bluetooth pairing buttons located on the top of the speaker, along with volume up and down buttons and a play/pause button that also lets you skip tracks. The only discernible difference is that the JBL Connect+ button has been replaced by one that activates PartyBoost.
The aforementioned changes aren't all that exciting but, under the hood, the Charge 5 has seen some more impactful improvements. It now operates wirelessly over Bluetooth 5.1 as opposed to version 4.2, offering increased data transfer speed, better range and a more stable connection.
The driver arrangement has also been revamped, with JBL increasing the size of the woofer by a couple of millimetres and adding a 20mm dome tweeter into the mix. That tweeter adds an extra 10W RMS to the sonic output, bumping the total to a highly respectable 40W RMS.
The final improvement relates to the Charge 5's ability to connect to other JBL speakers and create a stereo or multi-speaker audio experience. It does so via PartyBoost – the latest iteration of JBL's daisy-chaining technology that enables you to pair two PartyBoost-compatible speakers in stereo mode or multiple speakers in "Party" mode. To do so you simply have to locate nearby speakers within the JBL Portable app and press the PartyBoost buttons on the speakers you want to link.
PartyBoost is the third guise of the JBLs multi-speaker technology and comes with a longer connection range and less latency than its predecessors JBL Connect and JBL Connect+. Sadly, the three platforms aren't cross-compatible so you won't be able to use the Charge 4 (which supports JBL Connect+) and Charge 5 together in stereo mode. However, JBL's Boombox 2 , Xtreme 3 , Pulse 4 and Flip 5 all support PartyBoost so you have a reasonable number of options if you're looking to make the most of the feature.
JBL Charge 5 review: JBL Charge 5 vs JBL Charge 4
| | | |
| --- | --- | --- |
| | JBL Charge 5 | JBL Charge 4 |
| | | |
| --- | --- | --- |
| Bluetooth version | 5.1 | 4.2 |
| | | |
| --- | --- | --- |
| Number of channels | Mono | Mono |
| | | |
| --- | --- | --- |
| Dimensions (WDH) | 223 x 97 x 94mm | 220 x 95 x 93mm |
| | | |
| --- | --- | --- |
| Total power output (RMS) | 40W | 30W |
| | | |
| --- | --- | --- |
| Battery life (hours) | Up to 20 | Up to 20 |
| | | |
| --- | --- | --- |
| Dust and water-resistance | IP67 | IPX7 |
| | | |
| --- | --- | --- |
| Voice assistant support | No | No |
| | | |
| --- | --- | --- |
| Multi-speaker pairing | Yes: PartyBoost | Yes: JBL Connect+ |
| | | |
| --- | --- | --- |
| Additional ports | USB-A | 3.5mm AUX-in, USB-A |
JBL Charge 5 review: How does it sound?
The Charge 5 benefits from the addition of a separate tweeter, and it sounds crisper and clearer than its predecessor. It packs plenty of detail into its mid-range and treble reproduction and bass hits home with a forceful kick. The overall balance lends itself well to most genres, although I did find the treble became a little overbearing when pushing the speaker to its limits on vocal-dominated tracks.
Those limits are impressive, however, with the total 40W RMS output providing volume levels capable of filling my flat with sound and turning the heads of those some way away when I was at the park. One thing's for certain, the Charge 5 has more than enough muscle to satisfy those seeking big sound in a small package.
Those that like to customise their audio are out of luck though, as there is no way to tweak the EQ settings. There is a companion app – JBL Portable – but it's limited to displaying the current battery level of your speaker and facilitating PartyBoost.
JBL Charge 5 review: What could be better?
Compared with the similarly priced Sonos Roam, the Charge 5 is a little barebones in terms of features. There's no Wi-Fi connectivity and no microphone, which means you can't use it as a speakerphone to receive calls or utilise a voice assistant.
The Charge 5 also lacks manual or automatic EQ correction so how it sounds out of the box is what you're stuck with. That wasn't an issue for me as I enjoyed the Charge 5's audio profile but the absence of customisation options will irk those prone to audio tinkering.
READ NEXT: Our favourite PC speakers for gaming, music and movies
The removal of a 3.5mm audio port is a little disappointing too, while the inability to connect to JBL's previous generations of speakers means that only those who've invested in JBL's more recent products can take advantage of PartyBoost. Ultimately, though, the speaker functions perfectly well as a standalone device, and while a stereo or multi-speaker setup are appealing, they're certainly not essential.
JBL Charge 5 review: Should you buy it?
You're spoilt for choice when it comes to great portable Bluetooth speakers under £200 but I consider the Charge 5 among the best of them. If you want the benefits of Wi-Fi connectivity and voice assistant support, the Sonos Roam is a smarter option but it's smaller and unlikely to match the Charge's bass response and room-filling quality.
Bang & Olufsen's Beosound A1 (2nd Gen) is the most stylish comparable competitor but its attractive aluminium housing makes it more suitable for life indoors (despite its IP67 rating) and it's £50 more expensive. Then there's the Ultimate Ears Megaboom 3 , which is capable of floating in water, making it the best choice for beach bums and pool parties.
You can't really go wrong with any of those options but if a truly rugged design and powerful audio are top of your priority list, the Charge 5 is the pick of the bunch.