Remember when you used to carry around a boombox on your shoulder to blaze out those kick-ass beats? No? If you're too young to remember, then you might have seen boomboxes were among the coolest things you could own back in the 90s. Nowadays, fashion has drastically changed, but a few manufacturers, like JBL, want to bring back that old-school vibe.
The company's Bluetooth speaker, the JBL Boombox has a built-in handle that's designed to rest on your shoulders. Pretty cool, right? But, what price are you willing to pay to stay fresh?
READ NEXT: Best Bluetooth speakers – our favourite wireless speakers
JBL Boombox review: What you need to know
At £400, the JBL Boombox isn't cheap, but there's a lot more than meets the eye. It's a powerful speaker that has IPX7 waterproofing, can be linked with up to 100 other JBL Connect+ enabled speakers, has a 20,000mAh battery that delivers an impressive runtime of up to 24 hours and, thanks to a pair of USB Type-A sockets on the back, it can charge two smartphones simultaneously as well.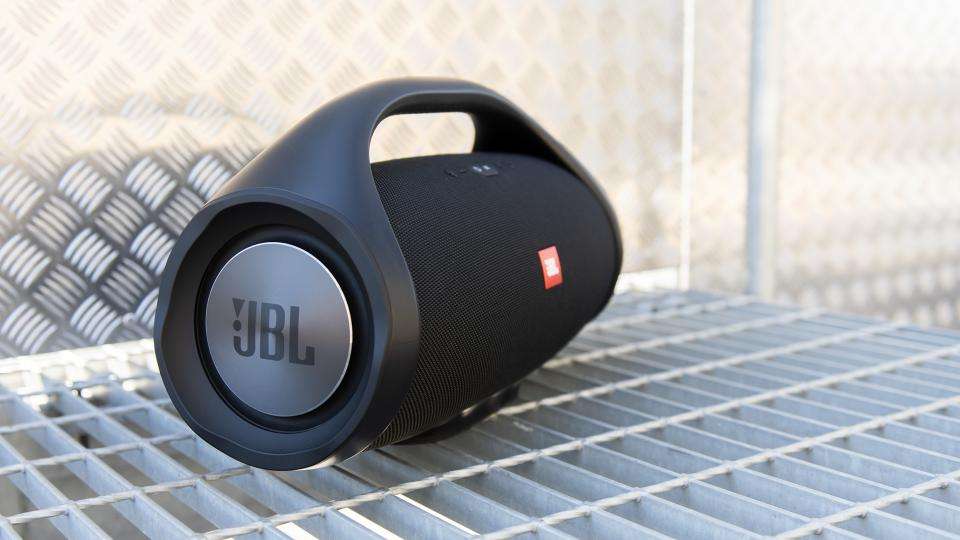 JBL Boombox review: Price and competition
If you thought a modern-day boombox would be cheap, think again. The JBL Boombox costs £400 – a lot of money for a Bluetooth speaker. At around that price, you can buy the incredible Dali Katch for £325 the indoor multi-room Orbitsound Dock E30 and the rather unique-looking Studio19 Solo E500X-EQ for £400 . None of these Bluetooth speakers are waterproof; that's where the £250 Ultimate Ears Megablast steps in.
The UE Megablast isn't as loud and doesn't have the same physical presence as the JBL, but it does have Amazon Alexa support, which the Boombox does not.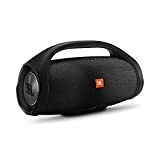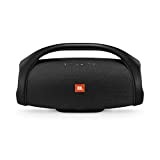 READ NEXT: Best Bluetooth speaker deals – our pick of the best wireless speaker deals
JBL Boombox review: Build quality, features and design
Alas, unlike the "ghetto blasters" of yesteryear , the JBL Boombox is not covered with knobs and ostentatious grilles; its name might be designed with a small nod to the past, but its roughly cylindrical shape, circular side-mounted passive drivers and tough nylon fabric coverings contribute to an altogether more modern look.
If you're thinking of strutting your LL Cool J stuff, though, you're going to need a pretty strong pair of shoulders. Measuring 254.5 x 495 x 195.5mm and weighing a hefty 5.25kg, it's no small object to lug around.
On the plus side, JBL has kindly added a rubber pad under the speaker to prevent it from digging into your shoulder, which should prevent it digging in too much and – fans of pool parties rejoice – it's fully waterproof to the IPX7 standard, so it can survive being submerged for up to 30mins at depths of up to 1m.
Mostly, though, the chunky, curved handle at the top of the speaker is there to make it easier to carry from place to place and at this, it's very good indeed. Underneath the handle, is a set of forward-facing physical media buttons plus a Connect+ button which lest you pair the Boombox with up to 100 (yes, you read that right – 100) other JBL Connect+ enabled speakers.
Meanwhile, at the back under a rubber flap, are two USB Type-A charging ports, a 3.5mm auxiliary input, a microUSB input (for firmware upgrades and the like) and a DC coaxial charging port. These sit next to an EQ switch, which is used for swapping between the speaker's indoor and outdoor modes, the latter adding more bass.
Perhaps the Boombox's most impressive feature, however, is its huge 20,000mAh battery. This delivers up to 24 hours of battery and it's so big you probably won't mind using it to top up your phone or tablet's battery.
As for wireless connectivity, that works entirely via Bluetooth. There's no Google Cast, Spotify Connect or Apple AirPlay support and range is therefore limited. That's not a problem per se, and the range is pretty good at around 20 metres outdoors, but as with most such speakers you'll typically need to keep connected devices in the same room if you don't want the signal to cut out.
It's also worth noting that the Boombox doesn't support the aptX codec, which does hinder the sound clarity somewhat.
READ NEXT: UE Wonderboom review: Portable, stylish and pool-friendly
JBL Boombox review: Sound quality
As mentioned earlier, the speaker has two sound modes, one for indoor use, the other for the outdoors. The outdoor mode rams up the low-frequency part of the audio spectrum, which results in mind-boggling amounts of mid-bass.
Overall sound quality, however, is somewhat of a mixed bag. On one hand, it delivers an incredible bass response, from the sub-bass rumble to the mid-bass slam. Unlike other Bluetooth speakers I've tested, the JBL's bass response is a raw, physical thump you can feel in your chest; especially when you crank it up. And the speaker's overall output is loud, very loud. It's the perfect speaker for small to medium outdoor gatherings.
However, the sheer amount of bass this thing kicks out does have negative side effects. The mids are recessed and pushed back, which means vocals aren't as lively and become somewhat lost. At the same time, however, the highs are also somewhat soft, which means the treble lacks zing and detail.
The JBL has forward-firing drivers only, so you don't get 360-degree sound like you do with the UE Megablast. Even then, though, the overall soundstage is disappointing: despite the sideways-firing woofers, it's narrow and somewhat restrictive. Instrument separation is weak, too, with more challenging tracks sounding muddled and mixed up. Rivals such as the UE Megablast and the Dali Katch are a lot more precise and deliver far more accurate audio.
READ NEXT: Ultimate Ears Megablast review: The best multi-purpose Amazon Alexa smart speaker
JBL Boombox review: Verdict
The JBL Boombox is far from the perfect Bluetooth speaker, but for many it will serve a purpose. It's loud enough to fill a large room with party-scale audio and will also thump out the tracks outdoors. With the ability to link other JBL speakers quickly and easily, full waterproofing and thumping bass, the Boombox could be all the speaker they'll ever need.
However, it's not accurate sounding as rivals, lacks 360-degree sound, doesn't support aptX and is also rather expensive. Plus, if you don't need the volume the Boombox, there are plenty of better-sounding rivals. Those looking for an all-weatherproof speaker, should lookto the Ultimate Ears Megablast . If you want a stylish, incredibly accurate-sounding Bluetooth speaker, it's the Dali Katch . For the home, I'd pick the Orbitsound Dock E30 or Studio19 Solo E500X-EQ over the JBL.