JBL has been manufacturing audio products for over 70 years and its current lineup includes Bluetooth speakers for just about every occasion. Its Go and Clip ranges cater for those wanting ultraportable audio, while the Xtreme 2 and Boombox 2 offer far weightier sonic experiences. Positioned between them is the Charge range, which strikes a keen balance between performance, price and portability.
The fourth-generation model excels in all three of those areas, although the removal of a couple of useful features takes a little shine off an otherwise excellent product.
JBL Charge 4 review: How much does it cost?
The price you'll pay for the JBL Charge 4 is determined by which colour you're after. At the time of writing, the dusty pink model was available on the JBL UK website for £114, with the river teal and desert sand versions priced at £115. The other colour variants - grey stone, midnight black, steel white and ocean blue, mustard yellow, forest green, fiesta red and two camo options – were all listed at their retail price of £160. However, you'll find most, if not all, colours available on Amazon, too, with prices starting at £109 .
Buy now from JBL
JBL Charge 4 review: How does it compare to the Charge 3?
The Charge 4 may look almost identical to the Charge 3 we reviewed in 2018 but JBL has made a number of tweaks to the speaker's design and features.
Though still cylindrical, the latest model is larger, with its dimensions having been increased marginally across the board. It now weighs 965g – 165g more than the third-gen model – but this makes no practical difference to the speaker's portability. There's no strap or handle like you'll find on some of JBL's larger offerings but it's not needed, the Charge 4 can be picked up and carried in one hand easily enough or simply slung in a bag.
Like its predecessor, the Charge 4 offers IPX7 waterproofing so can be submerged in water up to a depth of one metre for half an hour. It's well guarded against bumps and knocks, too, with tough fabric covering the majority of its exterior and rubber bumpers around the passive radiators at either end. The base and flap that protect the speaker's connection ports are also rubberised, making the Charge 4 cut out for any outdoors adventure.
In what is a very welcome move, the micro USB port used to charge the Charge 3's battery has been replaced with USB-C; otherwise, though, the connection options remain unchanged. There's an AUX-in port and a USB-A port, which enables the Charge 4 to double up as a power bank that can top up your other devices. Battery life has seen no change, either, with the Charge 4 offering up to 20 hours of audio playback at "moderate" volume.
Perhaps the biggest change comes in the audio department. Whereas the Charge 3 utilised two drivers to create stereo sound, the Charge 4 delivers a mono experience via a single driver capable of outputting 30W RMS. Moving to a single-channel doesn't hamper the overall sonic experience, however. Mid-range – which we said felt cold on the Charge 3 – is reproduced with clarity and detail and there's a measured thump to the bass.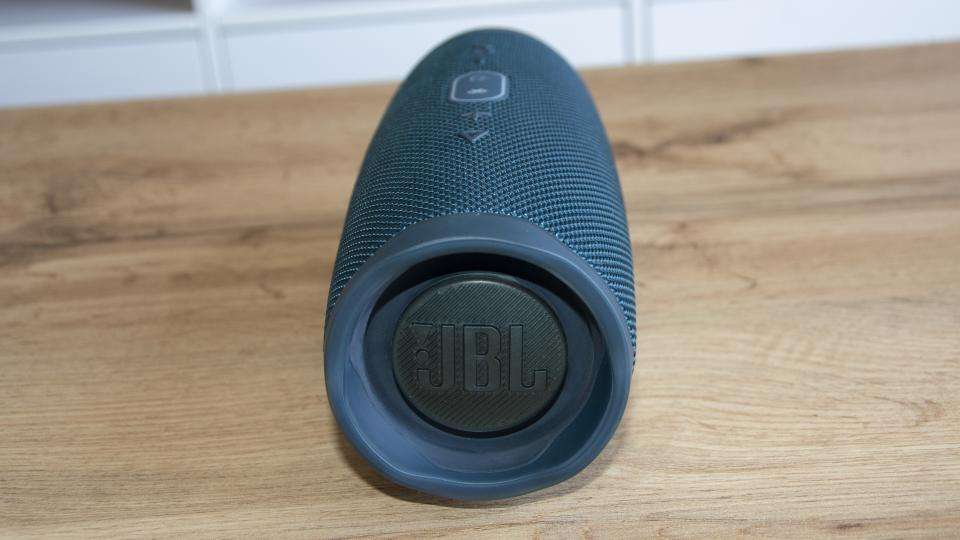 Audio is well-balanced and, for a speaker of its size, the Charge 4 pumps out a striking amount of sound. Pop it in the corner of your living room, turn up the volume and you'll find the Charge 4 more than capable of filling the space. Like the Charge 3, the Charge 4 handles higher volumes very well, with no distortion as you push it to its limit.
It's not all good news, however. Voice assistant support and the ability to use the speaker as a speakerphone for calls – both features present with the Charge 3 – have both been removed. Neither could be considered essential features but it stings that the Charge 4 isn't quite as versatile as the model that came before it.
| | | |
| --- | --- | --- |
| | JBL Charge 3 | JBL Charge 4 |
| | | |
| --- | --- | --- |
| Bluetooth version | 4.1 | 4.2 |
| | | |
| --- | --- | --- |
| Number of channels | Stereo | Mono |
| | | |
| --- | --- | --- |
| Total power output (RMS) | 2 x 10W | 30W |
| | | |
| --- | --- | --- |
| Dimensions (WDH) | 213 x 89 x 87mm | 220 x 95 x 93mm |
| | | |
| --- | --- | --- |
| Battery life (hours) | Up to 20 | Up to 20 |
| | | |
| --- | --- | --- |
| Voice Assistant support | Yes | No |
| | | |
| --- | --- | --- |
| Multi-speaker pairing | Yes - JBL Connect | Yes - JBL Connect+ |
| | | |
| --- | --- | --- |
| Additional ports | 3.5mm AUX-in, USB-A | 3.5mm AUX-in, USB-A |
JBL Charge 3
JBL Charge 4
Bluetooth version
4.1
4.2
Number of channels
Stereo
Mono
Weight (g)
800
960
Total power output (RMS)
2 x 10W
30W
Dimensions (WDH)
213 x 89 x 87mm
220 x 95 x 93mm
Battery life (hours)
Up to 20
Up to 20
Waterproofing
IPX7
IPX7
Charging
micro USB
USB-C
Speakerphone
Yes
No
Voice Assistant support
Yes
No
Multi-speaker pairing
Yes - JBL Connect
Yes - JBL Connect+
Additional ports
3.5mm AUX-in, USB-A
3.5mm AUX-in, USB-A
JBL Charge 4 review: Multi-speaker pairing
Those seeking to further bolster their audio experience can pair the Charge 4 with compatible JBL devices using the company's Connect+ technology. When multiple Connect+ speakers are hooked up to the same audio source via Bluetooth, you can simply press their Connect+ buttons to enjoy a stereo or multi-speaker setup.
It's a great option to have but comes with a big caveat: Connect+ speakers only pair with other Connect+ speakers. There's no compatibility with original JBL Connect devices or those incorporating the latest iteration of the technology, Party Boost, which means you're limited to using the Charge 4 with the JBL Flip 4 , Xtreme 2 , Pulse 3 and original Boombox .
With JBL now exclusively making speakers running Party Boost, you won't be able to pair the Charge 4 with the company's recent releases or the Go 3, Xtreme 3 and Clip 4, all of which were announced at a virtual IFA event in early September. A Charge 5 incorporating Party Boost is almost certainly going to materialise sometime in the not-too-distant future but for the time being at least, JBL is remaining tight-lipped.
JBL Charge 4 review: Should you buy it?
If you already have the Charge 3, the improved audio on offer probably doesn't justify forking out for the fourth-generation model, especially as you'll be missing out on voice assistant and speakerphone support.
However, if you don't already own a Bluetooth speaker and want one that's reasonably priced, wonderfully rugged and sounds great, you can't go wrong with the Charge 4. My only reservation in recommending it is that we're likely to see a Party Boost-compatible Charge 5 within the next year.
Buy now from JBL
JBL Charge 4 review: What alternatives are there?
When it comes to rugged, waterproof speakers, the JBL Charge 4's main competition comes from the Ultimate Ears Mega Boom 3 , which is not only IP67-rated for waterproofing but can float in water.
Those wanting something a little less rough and ready should check out the B&0 A1 2nd Gen : a super stylish speaker that delivers exceptional audio in a dust- and waterproof package.
And those after an illuminating audio experience will want to check out the LG XBOOM Go PL7 , a party-ready speaker featuring customisable lighting effects and an IPX5 rating.
For a comprehensive roundup of our favourite alternatives, head over to the best Bluetooth speakers page , which includes a buying guide breaking down everything you need to know before making a purchase.