10 living room sofa ideas – the essential design rules for sofa layouts and trends
The living room sofa is usually the largest – if not the most expensive – item in a room and is often the most dominant piece, so it is no surprise that the sofa usually dictates the style of the room.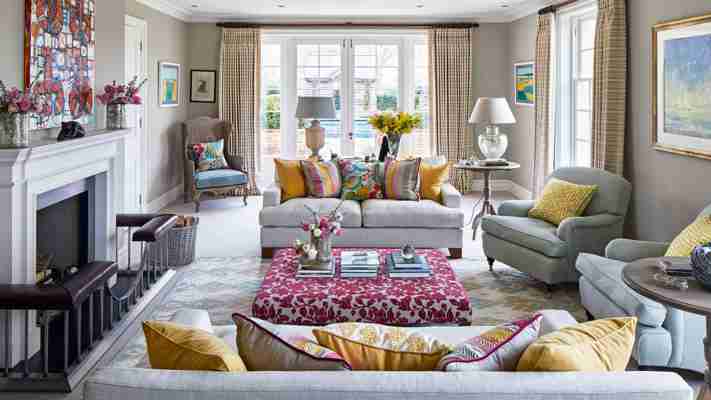 Asked to name their most indispensable piece of living room furniture, most people would opt for the sofa. Cosseting and useful, upholstered seating has been a feature of the western home since the 18th century, morphing gradually from the prim settles of Georgian days to the more familiar sofas and armchairs of the 20th-century.
But today, as technology and lifestyles change, the living room sofa has acquired a more pivotal role. Gone are the days when the three-piece suite, festooned with antimacassars, was the place to entertain visiting vicars or slump in front of the television on a Saturday night.
So whether you are buying new or decorating around an existing one, look to these living room sofa ideas for inspiration.
Living room sofa ideas – invest in the best seating
Sofas and living room seating ideas are becoming more multi-purpose as the routines of family life blur. Nowadays, a living room sofa is not just for entertaining or watching TV; we eat on them, use our laptops or play games from them or watch our home-cinema screens.
Concurrent with our quest for functionality is a return to more nostalgic seating. Perhaps it is a reflection of the economic climate and a desire to turn our homes in to reality-buffering cocoons. Or maybe it is just a flamboyant thumbs-up to a decade of minimalist living room ideas. Whatever the reason, there is no undermining that our sofas play a pivotal role in our homes.
1. Get the scale right with the two thirds rule
(Image credit: Future/Brent Darby)
A living room sofa that's the full length of the opposite wall could prove overbearing in a room scheme. But you also do not want a sofa that is too small. One approach to getting the right proportions is to aim for a sofa that's about two-thirds of the wall length.
'It is possible to choose a smaller sofa, however, perhaps influenced by the pieces of furniture nearby. 'When scaling a sofa to a room – as a rule of thumb – we tend to make the sofa half the size of the wall it is going on. This will allow the space around it to breathe – and also accommodate space for side tables with lamps on either side,' says interior designer Bee Osborn of Studio Osborn (opens in new tab).
2. Think about functionality as well as style
(Image credit: David Cleveland / Future)
While the dimensions of the living room are an essential factor when choosing the right sofa, how the room is used will also influence which sofa size is best for your space.
When a room is used largely for entertaining visitors, two sofas facing one another can prove more sociable than one large version that puts sitters in a line. The sofas will accordingly need sizing down with adequate space between and around them.
3. Invest in a sectional sofa in an open-plan space
(Image credit: Anna Stathaki / Future)
A sectional will often work well as a room divider. 'A large L-shaped sofa is a great choice for an open-plan space as it helps to delineate the sitting room area from the dining area or kitchen,' says Emma Sims-Hilditch of Sims Hilditch (opens in new tab).
But a sectional can also be a smart choice for a small living room because it's more space efficient than a sofa plus armchair combination. In this case, choose a design with dimensions that follow the perimeter of the room.
4. Go for a statement color
(Image credit: Ian Baldwin / Future)
The living room color scheme you choose for the sofa will influence how commanding it appears in the room, so consider its hue in these terms as well as thinking about it as part of the space's overall color scheme.
Color-wise, we're increasingly looking to nature to inform the narrative, leaning towards inky blues and moss green, while there's also a return of earthy tones, like beige and rust. When homeowners want to go bold, hues are still warm and inviting, echoing nature's spices like hot paprika and golden turmeric.
5. ...And interesting shapes
(Image credit: James Merrell / Future)
The shape of the sofa is also a key consideration. If the room has a low ceiling, opt for a sofa with a lower back to keep the design in proportion to the room's height. A design with a low back can also create the illusion of extra space below more usual ceiling heights.
When it comes to sofa trends for 2022, modern-retro fluting and glamorous curved lines are de rigueur, while at the opposite end of the scale a raw, organic and unrefined aesthetic is also breaking through.
6. Consider the sofa's arms
As well as the overall form, or shape, of the sofa, focus on its arms. 'We consider the height of the arms and the reach to the side for side tables,' says interior designer Amanda Meade (opens in new tab). 'Bulky arms can often obscure the flow in a room.'
Pay particular attention to how the sofa's arms will affect sight lines through the space. They shouldn't block the view of a window nor another of the room's features.
7. Take inspiration from retro trends
(Image credit: Future / Jake Curtis)
Rattan, wicker and woven materials are no longer considered dull, dated or dreary, and we very much welcome its highly-anticipated revival. With texture and intrigue at the forefront of design for 2022, rattan furniture has quickly found itself to be one of the hottest trends in the world of décor.
8. Go for raw beauty – and neutral colors
(Image credit: Davide Lovatti / Future)
'Raw materials and unrefined finishes are without a doubt two of the biggest sofa trends we're seeing for 2022,' says Nicola Bissoli, head of interior design at The Sofa & Chair Company. Natural, pared-back designs are combined with heavy textures such as boucle, creating a lovely tactile look and feel.
'Along with this, we're seeing the return of beige – warm, earthy shades are making a big comeback to replace cool greys as a base color. If opting for a statement sofa that will add a pop of color to a neutral space, tones inspired by nature (particularly ocean blues and mossy greens) are still the best option.'
9. Sink into curvaceous designs
(Image credit: Davide Lovatti / Future)
Full-on voluptuous or gently rounded, curves will lift the layout and soften the overall look of your room, adding a statement design focus to your living room décor.
'There's been a shift away from the more formal arrangement of two sofas facing each other in favour of more relaxed, curvaceous shapes that provide both comfort and ample space for entertaining,' says Suzy McMahon, buying director at Sofology.
10. Upholster your sofa in a statement fabric
(Image credit: Polly Wreford / Claudia Bryant)
Let your living room sofa do the talking. Lisa Whatnough, of Studio Squint (opens in new tab) observes: 'Instead of a wallpaper or curtain fabric being the catalyst for a room scheme, I advise clients to start with the sofa; everything should compliment that.'
Here, the neutral backdrop allows for the bright, floral upholstery on the sofa to take center-stage.
How should I arrange my living room sofa?
Be mindful of scale in interior design when arranging your living room sofa. Correct sofa scaling is an imperative for a successful living room, along with selecting its shape and color.
'Size takes precedence as it is crucial for the perception of a room volume to choose the most appropriate dimensions,' says BIID registered interior designer Hedayat of Jam By Hedayat.
'You want to make sure that your sofa has enough circulation around it – as well as space – so that it does not dwarf any design details or features in a room. A living room sofa that is too large will engulf the room disproportionately, and one that is too small will not serve its function.'
35 Best Stylish & Functional Living Room Sofa Decor Ideas 2022
The kitchen might be the heart of the home, but the living room is undoubtedly the coziest gathering place. With the right furnishings, you can create a comfy, welcoming, aesthetically pleasing space your family and guests will love hanging out in.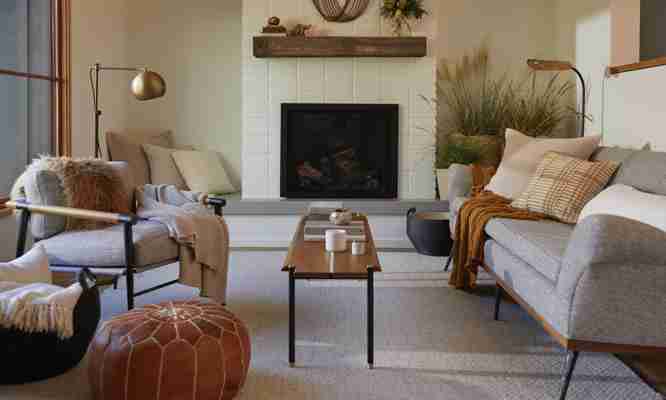 As the largest piece of furniture , a couch is a good place to start when designing your living room. Then you can choose smaller seating options and decorative accents to tie everything together.
If you're looking for tasteful living room sofa ideas, you'll find plenty of them below. Keep scrolling for style inspiration, decorating tips and guidance on selecting colors and materials.
Living room sofa ideas - 18 ways to turn your sofa into something special
When asked to describe a living room, it's a safe bet that a sofa will be the first thing most people mention. Usually, the biggest (and often most expensive) piece of furniture in the room living room sofa ideas can make or break a room.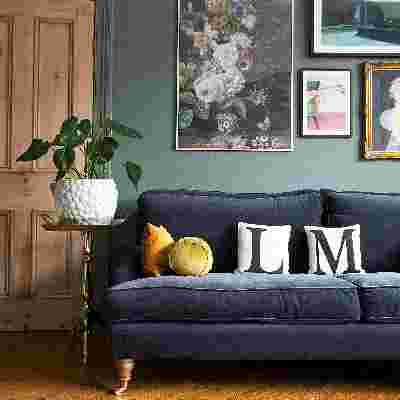 The size of the sofa means it will always have a huge impact on the look of a room. So choosing a comfy sofa that looks great and suits the space too is key. Picking the best sofa for your living room is the first step, incorporating it into your living room ideas comes next.
To ensure you nail both you need to consider how you plan to use your living room seating ideas. Are you creating a comfortable hangout for the family? Or a sleek grown-up room for the adults to retreat into? Each will impact the design and style of sofa you choose.
Living room sofa ideas
Once you've settled on the ideal sofa shape and size, you can start playing with colour, layout and the best part - accessories.
Cushions and throws are an easy way of adding extra colour to your sofa. Picking complementary colours and patterns that match an existing colour scheme will tie everything together.
'As a sofa should be a purchase you will love for years to come, consider shapes, colours and patterns carefully to ensure you opt for a style that will work not only with your current scheme, but also transfer to a new look. If in doubt, opt for a neutral design where you can add patterns, colours and textures as and when trends change,' says Suzy McMahon, Buying Director at Sofology (opens in new tab).
1. Create a serene setting a sofa duo
(Image credit: Neptune)
When planning living room sofa ideas the first thing you need to consider is how you will use the room. If you are aiming to create a peaceful space for reading and chatting this will filter into the choice and placement of your sofas.
'You may be planning a serene sitting room, in which case two occasional sofas facing each other would work nicely,' explains Charlie Marshall, Loaf (opens in new tab) Founder. Occasional sofas will add a sense of occasion in a more formal living room. Amplify the calming atmosphere with a minimal palette and moody shades.
2. Opt for slim arms in a small living room
(Image credit: Future PLC / Joanna Henderson)
Sofa ideas for small living rooms can be especially tricky to navigate, however, carefully considering the design of the sofa will make all the difference.
'Slim arms and smaller proportions feel less imposing and, as every inch counts, look out for straight backs that can sit flush against the wall. Elegant, tapered legs which raise the base from the floor help to create an illusion of space,' says Gisela Lancaster, Buying Manager, Sofology (opens in new tab).
3. Encourage conversation with modular furniture
(Image credit: Future PLC / Anna Stathaki)
If you love to entertain it is a good idea to opt for a versatile sofa that can be moved around to help create the perfect party atmosphere. 'Modular slimline furniture allows you to play with the configuration. If you have friends over you can reposition the sections to create a more intimate configuration, which facilitates interaction and conversation,' says Gisela Lancaster at Sofology.
4. Embrace a trending teal sofa
(Image credit: Future PLC )
Teal could be just the thing to have you considering how much it costs to reupholster a sofa. 'We're currently seeing a shift in popularity from classic navy colours to more vibrant teals. Our Liquorice Blue clever velvet, a firm customer favourite, has recently been beaten from the number one fabric spot by our new Sopping Seagrass clever velvet, a beautiful teal hue.'
'Two other teal velvets, Rockpool (opens in new tab) and Teacup Teal (opens in new tab) are also now in the top 20 fabric choices, showing that there's a real appetite for teal tones this year,' says Charlie Marshall at Loaf.
5. Pile up the texture on a sofa in a large space
(Image credit: Future PLC / Joanna Henderson)
'For larger spaces, creating a cosy atmosphere can sometimes be a challenge. Considering the texture and shape of a sofa are essential, statement sofas like Fernsby (opens in new tab) add both warmth and style. The abundance of cushions and soft recycled velvet effortlessly fuses a balance of comfort, practicality and stylish design,' says Elizabeth Sladen, Head of Buying (Indoor Furniture) at (opens in new tab).
Alternatively, if you prefer to keep your sofa more discreet or are looking to update your existing sofa, opt for plenty of textural furnishings. A pouffe is a smart addition to add texture and extra seating space.
6. Echo period features in the sofa shape
(Image credit: Future PLC / Katie Lee)
If you've invested in a Georgian or Victorian home and gone to pains to preserve the period features, don't throw this all out when it comes to choosing the sofa. Pay homage to the past in the shape and style of the sofa you choose.
'Reflecting the time period of the property and its original features is important. For those with a Victorian property, tap into the property's accents and traditional British design with opulent pieces of furniture with lacquered legs,' says Elizabeth Sladen at
7. Conceal a sofa bed
(Image credit: Snug)
If you're short on guest rooms, including a sofa bed is a smart solution for turning your living room into a last-minute bedroom. Sofa beds have come a long way since when they were first introduced. Once considered unsightly, the best sofa beds are both comfortable and stylish, slipping seamlessly into a living room.
8. Colour match accent cushions and accessories
(Image credit: DFS)
If you regularly enjoy updating your living room consider keeping your sofa and other large furnishings within a neutral palette, and leave the colour and texture to the other accessories.
This might not sound like a groundbreaking tip, but there is an art in creating a well-balanced colourful living room, with a white sofa at its heart. The key is in colour matching key accent accessories to the scatter cushions. For example, in this image, the beige vase on the mantle piece is a perfect match for the sofa cushion, while the vibrant pop of orange ties the occasional chair, lampshade and sofa together.
It is important to consider the rule of three and the balance of colour in the room when choosing how many cushions of each colour to go for. A good rule of thumb is the more times an accent colour is repeated in the rest of the room, the fewer cushions you need to tie it into the scheme.
9. Mix and match cushions with the rule of three
(Image credit: Dunelm)
Rather than throwing a pile of cushions on the sofa and hoping for the best, try a technique that stylists use to make their sofas look a million dollars.
When it comes to colours, simply follow the rule of three. Be lead by the room's colour palette and use three colours pulled from different areas of the room, such as wall colour, curtains and perhaps a rug or flooring. Mix and match these three colours for your cushions, using plains, mini weaves and larger-scale patterns, but keeping to the same three colours for a cohesive look.
'As upholstery pieces are the bigger items in a space, they tend to require a little more thought in terms of colour and fabric pairings,' says Patricia Gibbons on the Design Team at (opens in new tab).
'If you're searching for something that will instantly refresh the feel of a room, switch up your cushions, choosing hues that reflect the season. This is a quick way to add in a new splash of colour and update the overall aesthetics of a room without splurging on a sofa.'
10. Make a statement with a standout colour
(Image credit: Future PLC/Max Attenborough)
Forget safe neutrals and make your living room sofa the focal point by choosing a bold, standout colour such as lime green or emerald green sofa ideas. Bright colours can energise a space and be a real mood lifter. Let the sofa colour be the starting point for your colour scheme and bring in soft furnishings and extra accent pieces in complementary colours of equal intensity.
'From a style perspective, remember that a sofa is often the centrepiece of the room, says Suzy McMahon, Buying Director at Sofology (opens in new tab). 'A new upholstery piece is the perfect opportunity to add personality and colour so consider this when browsing designs.'
'It's tempting to pick a neutral style or colour on the basis that you may redecorate, however when investing in a new piece, it's worth opting for a design and fabric that you'll love for many years to come to increase its longevity.'
11. Lift a neutral sofa with colour accents
(Image credit: Future PLC)
While bright colours are certainly more eye-catching than neutrals, in terms of versatility, neutral sofas are hard to beat. A neutral sofa makes a great base for any living room sofa ideas scheme, around which you can create a variety of different looks and colour themes.
Dress up a neutral sofa with a line-up of colourful cushions and throws, mixing and matching different patterns and colour combinations. Don't leave it there though, extend your colour theme to include artwork on the wall above the sofa in cheery, complementary tones and bring in a brightly patterned rug in front of the sofa to tie the look together.
12. Create a sociable seating arrangement
(Image credit: Future PLC)
Create symmetry in a living room by using the sofa as an anchor point around which to arrange other furniture.
'Many homes will naturally have all the seating facing the TV, but by simply adjusting the seating so that it's facing each other, it will completely transform the space into an area for conversation,' says Charlie Marshall, founder of Loaf (opens in new tab).
'The balance of two sofas facing each other, or even a sofa and two armchairs, will always be visually appealing. If it's a family room, it's likely that the sofa will be a main feature – and this could be a corner sofa or chaise. Create balance with a coffee table or storage footstool and an armchair or love seat to one side, which adds weight. The trick is not to group too much furniture in one area.'
13. Zone living space with a corner sofa
(Image credit: John Lewis & Partners)
Clever furniture placement is an easy way of breaking up a large area, such as an open-plan living space. Use a corner sofa to create a cosy living room idea within a larger space, with the back of the sofa acting as a room divider. Bring in a large rug as an anchor point, choosing a colourful pattern that co-ordinates with sofa scatter cushions.
'In a flexible space, there are some pieces of furniture that will work harder than others, so it's important to shop wisely and choose something that you love,' says Jason Billings-Cray of John Lewis & Partners (opens in new tab). 'Use a corner sofa to section off a zone, choosing a mid-dark colour that will withstand its close proximity to the kitchen.'
'Choose an adaptable palette for an open-plan space, saving colour and pattern for a separate room where you can go a little more crazy as you aren't there the whole time.'
14. Pair a grey sofa with punchy brights
(Image credit:
Bolder than neutrals, but calmer than brights, grey is one of the most popular colour options when it comes to sofas. Grey sofa living room ideas are plentiful, as grey tends to work as a neutral so can be partnered with a wide range of colour choices.
Grey comes in many variations, from pale and interesting to dark and dramatic. In a traditional setting, opt for a mid-toned grey, with a classic sofa shape and plush velvet upholstery for an elegant look. Team mid-toned grey with bright accent colours, such as jewel-toned cushions, plush throws, rugs and accessories
'The scale of your sofa is important,' says Patricia Gibbons on the Design Team at (opens in new tab). 'Too big and it can feel like it engulfs the room, too small and you'll be fighting over the best seat.'
'Smaller rooms benefit from sofas with slimmer proportions and sleek silhouettes. Choose a model with elegant, tapered legs which raise the frame from the floor to give the illusion of more floor space. These larger scale pieces feel more statement and create an anchor to design around without overpowering a large living room. They also help zone, effectively acting as a room divider.'
15. Pick a rug that suits your sofa
(Image credit: Future PLC/Dominic Blackmore)
Choosing a rug to go in front of a sofa can be tricky and is easy to get wrong. 'A living room rug can be used to define a living area and to combine sofa and chairs into one unit,' say the rug experts at Benuta (opens in new tab).
'In a large living room, a spacious seating corner can be accentuated by a large, cuddly rug and create the perfect feel-good zone. With large rugs it makes sense to place all seating, like sofas and chairs, fully on the rug.'
'If the living room is a little smaller, the rug should be proportionally smaller and only the front legs of the sofa or chairs should be placed on the rug. For small living room ideas, position the rug directly in front of seating, with small furniture such as a coffee table positioned directly on the rug.'
16. Bring balance with a colourful backdrop
(Image credit: Snug Sofa)
Neutral living rooms are relaxing and easy on the eye, but without any contrast colour or texture they can feel flat and lifeless if you're not careful. Introducing a coloured panel behind a sofa will break up a plain wall and create a contrast backdrop for a seating area.
Try adding a false half wall or a panelled area behind a sofa that can be painted in a complementary tone. Running a narrow ledge along the top edge will give a display area that can be prettied up with colourful artwork, ceramics and ornaments.
Choose a muted shade for paintwork and tweak your existing colour scheme by bringing in extra touches that match the backdrop colour here and there on cushions, throws, rugs and artwork.
17. Wax lyrical with a quotation on the wall
(Image credit: Future PLC/Tim Young)
Think about decorating the wall behind the sofa as a another way of incorporating your new sofa into an existing scheme.
The empty area of wall space above a sofa is a prime spot for a piece of art work. As an alternative to pictures and prints, why not choose a heart-warming quotation instead. A line or two from a favourite poem or perhaps a saying that holds sentimental value with the family are both lovely ideas.
Use vinyl wall stickers to create your wordy wall art. Companies such as Etsy or have a range of ready-made quotations ready to go up onto a wall, or you could have a bespoke piece made to order.
Size-wise, choose a piece that measures roughly two-thirds the width of the sofa and position letters dead centre to fill as much of the space above the sofa as you can.
18. Mix it up with multi-functional sofa seating
(Image credit: Sofology)
Sectional modular sofas are a fab idea for family living spaces as seating is easy to re-arrange or add to as and when your needs change. Instead of a one-colour scheme, shake it up a little by going for a colourful mix of seating in a corner arrangement. Shades of soft grey teamed with mellow mustard, feel cosy and warm and is a fun choice for a family den or snug.
'To maximise space without compromising comfort, consider a corner sofa or chaise,' says Suzy McMahon, Buying Director at Sofology. 'Not only are they great for relaxing, the length serves as an integrated footstool that saves additional space in the room. Selecting a style with hidden storage can also help to make the most of a small room, negating the need for additional bulky furniture in the area.'
How do I choose the right sofa for my room?
Selecting the perfect sofa is a very personal choice and will balance many factors including practicality, comfort, style and budget,' says Suzy McMahon, Buying Director at Sofology. 'The initial practical considerations are fairly straightforward; think about the space you have in your room, how many you would like to seat and the level of support you prefer.'
'Make sure you measure your room accurately and, if you have an existing sofa, use that as a benchmark to understand any differing dimensions of a new model. A good tip, in an empty room, is to lay down newspapers to help you visualise the footprint the sofa will use' advises Suzy.
'Don't forget when considering sizing you'll need to allow for leg room and space to move around the sofa. Additionally you'll need to think about how you will get the sofa into the home. Delivery is a key stage in the process so make sure hallways and doors are wide enough to accommodate your sofa.'
What direction should a sofa be placed?
This depends on the size, shape and the architectural features of your living room as often these will dictate where the sofa has to go. A general rule is to position the sofa facing the room's main focal point, such as a fireplace, window or even the TV. But in a room that has no natural focal point, it can be tricky.
Always consider the balance of the room before positioning the sofa. Too many visually-heavy pieces of furniture on one side of the living room will make it feel unbalanced. A sofa tends to be quite large and hefty, so try to even this out by positioning the sofa on one side with armchairs opposite.
If you have a coffee table positioned between the two, leave a little breathing space around to give the room a better sense of flow and so not to impede traffic.