must-have appliances
November 3, 2021 / Company News
Nowadays, it is hardly possible to live without the help of home appliances. These appliances make your household tasks easy and convenient, hence saving time and energy. Besides, using instruments reduces stress as you go about your daily routine. This article is designed to introduce the 10 most useful home appliances for people who just moved to a new house and have no idea what to buy.​
1. Dishwasher:
A dishwasher is indeed a lifesaver in many ways as this automatic device washes the pots, dishes, cutlery, and other dishwasher-friendly utensils. It is one of the most useful kitchen appliances because this equipment solves the biggest problem in the cooking process, that is, who will be doing dishwashing. Many people like cooking, but nobody wants to do dishwashing. Therefore, it is important for the harmony of family members. The dishwasher is easy to operate as all one has to do to merely load the utensils into the dishwasher, add the right detergents, and switch it on, and this electrical equipment does the rest. In addition, if you choose the built-in style dishwasher, it will not occupy any space in the kitchen.
2. Microwave:
The second must-have appliance in your kitchen is a microwave. Both old and young around the world use microwaves to reheat food or to cook food quickly. However, it's not just for warming, a microwave has become an essential appliance in every home. Microwave shows the advantage when there is not enough time to cook, for example, it saves a lot of time to prepare breakfast in the morning. Some new features like convection technology have made the ovens more versatile, while others like SpeedCook have made it possible to reduce cooking times dramatically. Additionally, OTR-style microwave ovens serve as 2-in-1 equipment and save a lot of space as well as money because you need not buy a range hood.
3. Refrigerator:
Of course, the refrigerator has become a necessity for every family. Over time, the fridge has moved from a standard basic design, and everyone had the same refrigerator into a massive market of styles, designs, colors, sizes, types, all with optional added features. SMAD provides many kinds of refrigerators. For more details, please visit
4. Laundry:
A washing machine is also a necessity for every family. Some student dorms might have a laundry room that all students need to share the machine with others. However, under a pandemic situation, it is better to have your own washing machine. There are many types of washing machines of different sizes. You could choose a suitable size based on your personal need. Visit to explore different laundry machines.
5. Ice maker
An ice maker is a kitchen appliance dedicated to making a large amount of ice in the comfort of your own home. This prevents you from having to stock up on ice for parties and special occasions you host at home. With an at-home ice maker, you will not have to drink a warm beverage – or wait patiently for ice again. Visit to explore different ice makers and find one suitable for you.
10 Home Appliances You'll Wish You Owned
Share with your friends! 102 SHARES 10 Pinterest LinkedIn Email
It used to be that "keeping up with the Joneses" meant having the nicest house on the street, the lushest yard in the neighborhood and the shiniest car in the driveway. But now having "the best" has a lot to do with what's inside your house – amazing appliances and modern technology instilled to make our lives easier (and maybe still make our neighbors jealous). As technology zooms ahead and the latest home appliances enter the market at break-neck speeds, we've chosen a few jaw-dropping, envy-inducing gadgets you'll likely wish you owned.
10 Home Appliances You'll Wish You Owned
June Oven
Price: $499
"The June is seven appliances in one and uses technology to make cooking perfectly easy for everyone," says Matt Van Horn, co-founder and CEO of June. "We have an HD camera and advanced artificial intelligence (AI) that instantly recognizes hundreds of common foods and suggests cook-programs that are constantly updating via Wi-Fi. You can also watch your food cook in real-time and be notified when it is ready via the June app, so you can leave your kitchen and focus on other things while June is cooking."
Updates to the newest iteration of the June oven include faster cooking, a streamlined touchscreen interface and a durable, easy-to-clean stainless steel interior. Now, if only June's technology could remove those calories …
Samsung Side-by-Side Refrigerator with Touchscreen Family Hub™
Price: $2,069 – $2,159
Before you can cook all that delicious food in the June oven, you need to store it properly. And who wants to cool produce, dairy and perishable treats in a boring icebox from the past? Enter Samsung's ultimate tech-savvy fridge – a beautifully designed appliance with Family Hub™ technology that includes photo sharing, music streaming, note sharing between family members, and our personal favorite, an interior camera allowing you to stay on top of what ingredients you do and do not have. Plus, there are the tried-and-true fridge upgrades like an in-door ice maker, adjustable top shelf, fingerprint-resistant finish and an overall capacity at 26.7 cubic feet.
Automatic Pan Stirrer
Price: $25
We love cooking, but when a recipe calls for "continuous stirring," we become a little defeated thinking about the time commitment. We just don't have the patience – nor the forearm strength – to make sure nothing burns, clots or congeals. But Uncommon Goods sells the most intelligent product since the microwave: an automatic pan stirrer that can be placed in any simmering or low-heat liquid. After the hostess sets the stirrer's timer, she can get ready for the party and come back to a perfectly blended dish.
RELATED: 8 Items That Will Breathe New Life Into Your Kitchen
Whirlpool 2.8-Cubic-Foot Smart All-in-One Washer & Dryer
Price: $1,699
For those living in tight quarters, every square inch of space is crucial, and wasting it isn't an option. That's when multitasking appliances become crucial, especially washer and dryer combos. Whirlpool's all-in-one washer and dryer includes a ventless design for installation anywhere, connectivity with your smartphone, touchscreen controls that learn your family's laundry habits, and a Load & Go™ Plus dispenser that holds detergent and fabric softener for up to 20 loads. Plus, the available color is a gorgeous metallic shade called "cashmere."
LG ThinQ™ Front-Load Washing Machine
Price: $1,529
Doing laundry used to be a chore, but artificial intelligence (AI) is now making it the coolest job in the house. The LG ThinQ™ front-loading washing machine features an AI Direct Drive (AI DD) motor that seamlessly deciphers fabric types and the volume and weight of every laundry load, and then programs the optimal cycle details to make your clothes come out perfectly clean and intact, every time. In fact, LG's savvy washing machine won the 2020 CES Innovation Award – high praise at the biggest, most elite consumer technology show in the world. The washer can even connect with the LG ThinQ™ mobile app to notify users when detergent levels are low, and when paired with the compatible LG dryer, the washer can "talk" to its counterpart and send the optimal dryer setting for each specific load.
Kohler Moxie Showerhead & Wireless Speaker
Price: $218.90
Your bathroom's killer acoustics will pair nicely during your morning shower routine, with the help of the Kohler Moxie showerhead. The two-in-one product provides up to seven hours of music, news, podcasts and more by syncing with your Bluetooth-enabled device. And besides all of those sweet tunes, the showerhead element deserves its own ovation – the spray face features 60 angled nozzles for some effervescent "me" time. The magnetic speaker gets docked easily into the Moxie showerhead whenever you're craving some background music for your performance.
HomeSoap
Price: $199.95
In these times of pandemic infections, cleanliness and disinfecting is a must. But who said it couldn't be chic as well? Enter HomeSoap, a larger version of the original PhoneSoap smartphone sanitizer. The HomeSoap can clean not only smartphones, but other larger germ-attracting products like tablets, remote controls, toys and even books. The device works with two large, powerful ultraviolet short wavelength (UV-C) lights and a reflective inner surface that allows the light to break apart and destroy bacteria and germs. (Note: HomeSoap's UV-C light is harmful to our eyes – this miraculous device is meant for products, not the people who use them.)
Philips Hue White LED
Prices vary
Say goodbye to "dumb" lightbulbs of the past, because this smart lighting from Philips will make you finally see the light. The Philips Hue line includes a variety of LED products, including standard interior bulbs, as well as light strips, floodlights and more. These lights and accessories (up to 50) connect to the smart hub, the Hue Bridge, and with the connected app, homeowners can customize their lighting throughout the day and conveniently create the perfect ambient light.
MIRROR
Price: $1,495
With smart homes come smart home gyms, and there are plenty on the market to get your cardio going. We narrowed the field down to three innovative companies – Peloton, Tonal and MIRROR – each offering its own version of streaming trainers, helpful equipment and motivational updates. However, it was the latter we eventually selected, not because of its technological advancements but because of the sleek, elegant design. It's not obtrusive, and you could mount this equipment anywhere and no houseguest would be the wiser.
MIRROR offers more than 10,000 on-demand classes in over 20 different workout genres, as well as weekly live ones for MIRROR members. Additionally, members can access one-on-one personal trainers and make use of real-time optimization with in-workout adjustments based on preferences and goals.
Furbo Dog Camera
Price: $199
We can't have a list that doesn't include at least one product focused on your home's furriest residents. The Furbo Dog Camera is the coolest way to spy on your pup, ease his anxiety while you're away and pamper that little pooch. The basic Furbo has a camera with two-way audio, so you can talk to your dog while out, as well as a fun treat-tossing capability (which makes a clicking sound prior to each throw, similar to positive reinforcement training), and real-time barking alerts. The upgraded Nanny version adds cloud recording, home emergency alerts (smoke and carbon monoxide) and a "doggie diary" (a 60-second highlight video from your dog's busy day). A treat for you and your pup!
**********
For the best of the South — straight to your inbox! — subscribe to our newsletter HERE!
Share with your friends! 102 SHARES 10 Pinterest LinkedIn Email
How to Choose the Right Kitchen Appliances for Your Home
Choose the Best Appliances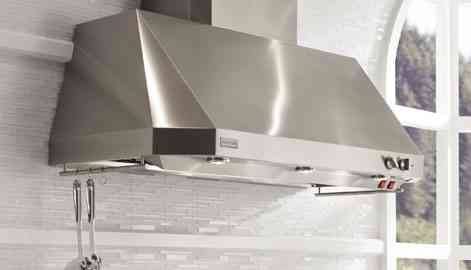 Once you have established a budget and created a vision for your new kitchen, you'll need to research specific appliances, considering the brands and differentiating factors in each category to choose the appliances with the features, performance and style that best meet your needs.
Also be sure to consider Energy Star-rated appliances to increase home energy efficiency and savings while reducing impact on the environment. For tips on selecting and positioning your appliances for better energy efficiency, see our article on the Energy Efficient Kitchen.
Cooking Appliances
Range or Cooktop
One of the biggest decisions you'll make in designing your kitchen is whether you prefer a separate cooktop and wall oven(s) combination or a free-standing range, which integrates the cooktop surface and oven in one appliance. There are advantages and benefits to both options, based on how you use your kitchen. For instance, if you tend to cook dishes that start on the burner but are finished in the oven, you might prefer the proximity that a range offers. And free-standing ranges are often more economical and easier to install. But if you have multiple cooks sharing one ample space, the separate zones offered by a cooktop and a wall oven might serve you better. However, your choice may be dictated ultimately by the layout or space constraints of your kitchen — an open kitchen with little wall space or a small kitchen may not be able to accommodate a separate wall oven.
Whether you opt for a range or a cooktop, you'll need to start by choosing the fuel source. Ranges are available in gas, electric, or dual-fuel configurations. Gas ranges offer iron burner grates and front-facing controls. Dual fuel is popular because it provides even electric heat in the oven together with easily controllable, precise gas burners on the cooktop. You'll also need to select the right size range for your kitchen layout. Standard range widths are 30, 36 and 48 inches. Larger, professional-size ranges (36 and 48 inches) often include ways to customize the cooking surface, such as additional burners or an optional built-in grill or griddle.
For cooktops, the fuel source choices are gas, electric radiant or induction, with similar choices in sizes, configurations of burners and customizable accessories as are available in ranges. Both electric radiant and induction cooktops provide a modern, seamless look, including optional flush installation, and are easier to clean than gas cooktops. Induction is the most energy-efficient choice, quickly transferring electromagnetic energy directly to pans, which brings them to temperature far faster than any other method. However, be aware that with induction cooktops, you must use cookware that contains a high content of ferrous metal because the heat is only transferred by magnetic interaction between the pan and the coils.
Wall Ovens
If you've opted for a wall oven, the amount of baking, broiling or roasting you normally do may affect what features you choose. Ovens come in standard sizes of 27 and 30 inches and are available in either a single- or double-oven configuration. Double ovens are ideal for cooks who entertain or have large families, if your kitchen size and layout can accommodate them. And while wall ovens don't allow for custom panel fronts, they may be installed under the counter or flush within the cabinetry for a more integrated look.
Another oven feature to consider is convection, which uses a fan to distribute the air in the oven clockwise and counter-clockwise for even cooking with minimum hotspots in less time than a traditional oven. With convection, you can also cook multiple items at the same time, a plus for those who love to bake batches of cookies. Plus, the reduced cooking time of convection can translate into household energy savings.
Speedcooking Ovens
A speedcooking oven, like our 5-in-1 oven, is a hybrid convection and microwave oven. The 5-in-1 oven with Advantium technology uses high-intensity halogen light with ceramic and radiant cooking elements to cook the outside of foods rapidly together with microwave energy to cook the inside evenly - and it can be used as a convection oven, toaster oven, warming/proofing oven, precision cook oven and microwave. Speedcooking ovens are ideal for accommodating busy lifestyles and can be a great alternative for the cook that wants the functionality of a double oven configuration in a smaller kitchen space. If you do upgrade to a speedcooking oven, be sure to purchase the appliance with the correct voltage for your selected location, as both 240V and 120V versions are available.
Ventilation
Whether via a wall-mounted hood, island hood or downdraft ventilation system, proper ventilation not only removes steam, heat and odors from your kitchen but also keeps your cabinets and appliances clean and grease-free. One of the most important features to look for in a ventilation system is the fan's ability to move air, measured in cubic feet per minute (CFM). For the best venting, the recommended rate is 1 CFM per 100 BTUs of the heat output of your range or cooktop. For example, if your total cooktop output is 60,000 BTUs, you should consider a hood with an air flow rate of 600 CFM. Also, be sure to look at other hood features like lighting, warming lamps and utensil racks that can increase its functionality in your kitchen.
Another important consideration for ventilation is ducting. If the layout and location of your kitchen in your home permits it, ducting your ventilation system to the outside will remove the maximum amount of heat and odor. Otherwise, opt for a duct-free or recirculating ventilation hood, which relies more heavily on filtration for odor control.
Refrigeration
Refrigerators
When choosing a refrigerator for your kitchen project, first select one of the three installation types:
Freestanding: Freestanding refrigerators may be viewed from a variety of angles, often have large capacity and are easy to relocate should your design change. When installed, however, they are not flush with kitchen countertops.
Built-in: Built-in units are usually taller than freestanding ones but fit flush with your countertop depth for a seamless look.
Columns or Fully Integrated: These units blend so seamlessly into your design that it can be difficult to distinguish them from the rest of the kitchen cabinetry.
All three options are available in a variety of sizes and capacities to meet your family's individual food storage needs.
Once you've decided on an installation type, you'll need to consider the refrigerator's configuration. French door models with a bottom freezer as well as popular side-by-side models require less door swing space and provide easier access to the freezer for children than a traditional top-freezer model. For extra capacity, large families may also want to consider a larger refrigerator and freezer combination or upgrading to an all-freezer next to an all-refrigerator, if the kitchen space and layout can accommodate them.
Supplemental Under Counter Refrigeration
If you often entertain, consider supplementing your regular refrigeration with additional under-counter options:
Refrigeration Drawers: Including a separate under-counter refrigeration drawer in your kitchen design allows you to expand the capacity of your refrigerator in whatever area of the kitchen you need it the most.
Beverage Centers and Wine Chillers: These units not only free up space in your refrigerator for platters and dishes but can also keep all your beverages chilled to their optimal serving temperature, whether it's an award-winning Pinot Gris or sodas for the family.
Ice Makers
Frequent entertainers also love the convenience of a dedicated ice maker. When choosing an ice maker, start by selecting the type of ice it produces — nugget or gourmet clear, which can make a difference in many cocktails and specialty drinks. And be sure that the ice production and storage amounts match your family's needs.
Dishwashers
In selecting a dishwasher, start with styling; choose a finish that coordinates with the rest of your new appliances. And while most dishwashers are installed flush with kitchen countertops, integrated dishwashers matched to your cabinetry using custom panels are a growing design trend. Next, compare cleaning features. Look for dishwashers with a variety of cycles and options that complement your cleaning habits. For example, if your family runs frequent wash cycles, shop for models that offer varying capacity- or soil-level options. And entertainers might consider those with stemware holders or cycles for fine china. Plus, you'll want to compare the number of jets and types of racks based on the kinds of dishes you'll be cleaning.
One of the most important features to consider is how loud the dishwasher is while running. Dishwasher noise levels are rated in decibels; the lower the decibel rating, the quieter the dishwasher will be. Look for a rating of 45 decibels or less for the most quiet performers.
Dishwashers are most commonly available in a standard 24-inch width, as well as a smaller 18-inch width, ideal for very small spaces or as a second dishwasher for a wet bar.
And eco-conscious consumers should consider a dishwasher's energy consumption and water usage. Shop for a model that is Energy Star-qualified for not only superior energy efficiency but also to reduce environmental impact.