Where To Start When Decorating A New Home From Scratch
Have you recently moved into a new home? If you're staring nervously at blank walls and empty rooms, this post is for you. Decorating your house from scratch doesn't have to be a daunting task. With these tips, you'll have an action plan in place in no time so the decorating fun can begin!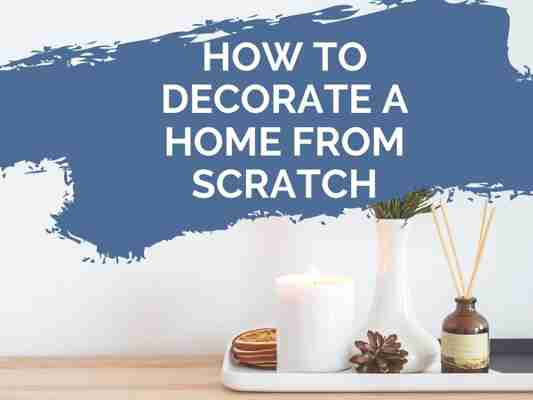 Get Past The Initial Overwhelm
From the first walk-through of your dream home to the surreal moment when you're holding brand-new house keys in your sweaty palms, one thing has lingered in the back of your mind.
How am I going to decorate ALL these rooms?
Because a 'dream' home does not look like a collection of empty spaces, with bare walls and floors. No, it looks like those designer creations in magazines that you've been staring for months, right?
The lines, the colors, the textures, and the light…they've all been swimming around in your head. The house is finally yours to decorate but you are no closer to knowing what you want, or even where to start.
And it's suddenly all a bit overwhelming.
Well, worry no longer – help is here! This should be a fun process, that you enjoy and delight in. It shouldn't cause you undue stress or worry. Also, realize that this project may take several years before you are truly done decorating each and every space in your home.
Heck. I've lived in my house for 5 years and I'm only at the point of completion now! Budget and time are real constraints for most of us, so both those things should be taken into consideration. Enjoy your decorating journey, don't rush it, and you will be happy with your home decorating choices at the end of it!
Below, I've mapped out what your decoration journey is going to be like for the next few months (or years!).
Don't skip any steps – everything plays a role in your decorating decisions. The more you plan, the less frustrating it will be.
Define Your Style
Decide on an overall vision for your home. Make sure you're clear on your personal decorating style and your design preferences so that you don't get side-tracked or confused by other styles during the process.
Coastal style dining room
If you don't know what your decorating style is, take some time to figure it out. You don't need to box yourself into a pre-defined "style" of farmhouse, boho, etc. But it is important to understand what you like, and what you don't like, and don't let others' opinions or tastes influence how you'll decorate your home.
I know that I love a light and airy, coastal vibe with some traditional/transitional elements. I call it Pottery Barn meets Serena & Lily. Try to nail down your style with a name or a phrase, and it will help keep you focused on your decorating journey.
Set your Color Scheme
Once you're clear on the style you're planning on decorating in (boho, farmhouse, transitional, or a mixture of different styles), it's time to choose an overall color scheme.
Do you want to keep things light and bright? Do you love warmer tones, cooler tones or bold colors? Choosing one color (or very similar colors) for all the walls in your home not only ensures that your color schemes flows from room to room but eliminates the headache of trying to figure out a million different paint swatches.
A whole house color palette will also help ensure that your home feels cohesive and not disjointed from the get-go.
My home for example, is all various shades of gray or white walls. You don't go from one green room, to another room that's blue and then another that's a deep red. Homes need to flow from room to room, and there shouldn't be a jarring sensation when you go from one room to then next.
When in Doubt, Keep it Neutral
I'm personally a huge fan of keeping the walls neutral. This can mean white, light to medium gray, greige or even tan.
Bedroom walls painted Benjamin Moore Paper White
Whatever your color preference is, keeping it light and neutral means it will serve as the perfect backdrop for the other elements you will introduce to the room – furniture, rugs, art, etc.
Plus, if you like to constantly switch up your decor and accessories, its so much easier when you have a neutral backdrop that won't compete.
Take Fixed Elements into Account
Fixed elements are those that are not easily changed, such as trim, millwork and cabinets. The color of your trim and even the color of your kitchen cabinets will majorly impact your design choices.
Craving the bright, clean modern look for your new home? Then you may want a bright, crisp white trim. If your home is full of honey oak, you'll want a paint color that will work alongside that and the other furniture that you will bring into the space. On the other hand, if you have beautiful millwork, you may want to highlight that with a contrasting color.
Spice it Up with Accent Colors
You'll also want to decide on 1 -3 accent colors to use throughout your home. You may want to keep everything neutral and use various shades of white, cream, gray and accent more through the use of texture or wood tones.
White nursery with blue, gold and natural wood accents
On the other hand, maybe you love gorgeous pops of color (like me!) and your accent colors may be blues, grays and greens.
Whatever you decide, don't pick more than 3 and try to use them throughout each room in your home to create that cohesive feel. They don't all need to be the same shade – vary the intensity and saturation to stop them from feeling boring and expected.
Define The Function of Each Space
It's important that you decide how each space will be used before committing to a design. Sometimes this won't be evident until you've lived in the house for a while. For example, will your living room simply be a place to relax and watch TV? Or will it also need to function as a playroom or home office? The same for your bedroom – will it just be somewhere you sleep? Will you watch TV in there? Or will you need a nook for your home office set up?
Identifying the function of each space before you start day dreaming about the design is an important first step.
Visualize with Mood Boards
Organize all your ideas by creating mood boards for each room in your home. Start with the most used rooms in your home (living room and bedrooms).
If you're the type who prefers to only focus on one room at a time, then do that. In my experience, most people like to pick away at rooms as they figure out what works and what doesn't work and this creates a more organic design in the end.
Either way, you're going to want to start with some inspiration (I love Pinterest and Instagram for this!) and an idea of what pieces of furniture you'll need.
Kitchen Mood Board
Start with one piece as your inspiration for the space – it can be furniture, a rug or even a piece of art that you love. Then, design the rest of the space around it.
In the above kitchen mood board, my inspiration starting point was the rattan counter stools. Everything else in the design used that as a starting point.
Shop with Confidence
Take your time shopping – it often takes me months to find the perfect piece of furniture – you'll be happier in the end than if you force something that's not quite right. Or worse again, you'll have bought something and end up replacing it a year down the road. Let's not waste money! If you have an idea of what you want – wait for it.
Start With Large Pieces, Then Layer in Accessories
Furniture does not all need to match. Yes, a matching bedroom set may be easier to find that figuring out nightstands that work with your upholstered bed, but the end design will look so much better when you have a "collected over time" appearance to your room.
Once you've got the big pieces in a room, you can start to layer in window treatments, art, throw pillows and accessories. Again, this will take time to achieve the look or vibe you want. Don't feel like you have to rush it!
Learning simple tips like how to mix and match patterns, or how to style a coffee table or bookshelf will really take those accessories and decorative items to the next level.
Consider an Online Designer
If you're really struggling with this whole decorating thing or simply don't have the time to devote to it, consider using a service like Modsy to design the space for you.
All you have to do is provide some information as well as the dimensions – and some photos – of your space and they'll provide a 360 degree virtual rendering of you room. Best of all, you can shop the entire space they create and have it all delivered to your door!
I've used their services for my original office as well as my boys' bedroom. I had an idea of what I wanted, but didn't have time to shop for all the pieces – they did that for me and planned out the furniture so that it fit the room perfectly. It was such a great service!
Use code APRIL20 for 20% off your first design package with Modsy.
Decorating Checklist For Your New Home Let's review! Here's how to design a room from scratch Print Instructions Define The Space. Being clear on exactly how it needs to function should be your first priority. Is your bedroom just a place to sleep or will it also be a home office? Choose a whole house color scheme. This can be a simple as 1 - 2 neutral colors that will work throughout your house, along with a couple of accents colors. Start with an inspiration piece from which the whole design will be based. This can be anything - a throw pillow, a rug, a piece of art or furniture, some other textile or even wallpaper. Include these elements in a mood board or inspiration board to help you visualize the room. Bring in colors that work with your inspiration piece and tie in with the rest of your home. We don't create spaces in a vacuum; they should feel cohesive and flow with the rest of your home. I like to pick 2 primary colors for my space, with a third used very sparingly. I prefer to keep walls neutral so that they act as a backdrop for whatever color I want to add in with textiles or decorative objects. However, you may choose to have the majority of the color on your wall. It's not necessary to have matching furniture. A "collected over time" look has much greater appeal than an entire set that matches. Once furniture is in place, use your accent colors in the throw pillows or rug. Finally, layer in accessories. These are the things that really finish off a room. Plants and wood add life to any space. Make sure there are multiple textures in your room. Add simple vignettes to tables. Make sure there's enough lighting.
Other Decorating Posts
Interior decorating ideas for your new home
The hard bit is over: you've found your perfect house and the removal men have gone. Now the fun can start, as you put your stamp on the place and choose fabrics, wallpapers, furniture and accessories. But where do you start with interior decorating? Here interiors expert Charlotte Boyd gives some advice...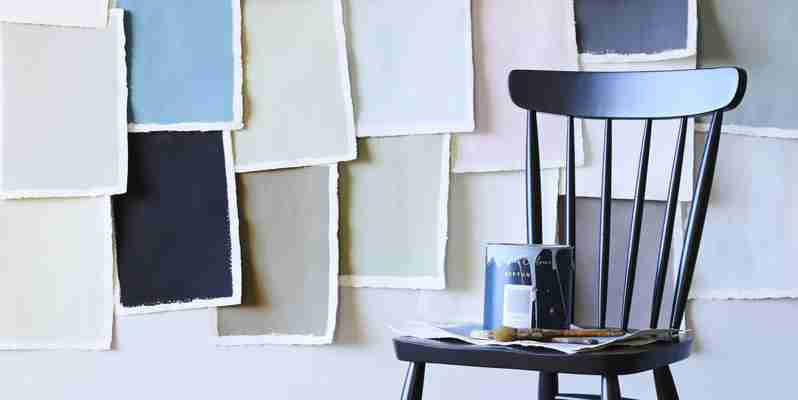 Get inspired
There are so many places to look for ideas – House Beautiful is obviously a great place to start, but also Instagram and Pinterest, plus hotels and restaurants you visit, friends' houses etc. Put together a moodboard, real or online, of what you want your home to look like. This doesn't have to include specific paint colours and fabrics, just rooms you love. Consider how you want it to feel: warm and cosy, light and uplifting, fun and vibrant. Doing this will help focus your mind. If you have a partner or family, it's important to include their ideas too.
Bring all your ideas together on a moodboard Chris
Look at what furniture you already have
Your budget may not allow you to start from scratch in every room, so it's important to work your new schemes around furniture you've brought from your old house. If the colours and styles aren't working, can they be recovered, painted or renovated to fit? You'll be amazed at how different your old grey sofa will look covered in a vibrant emerald-green velvet.
Take the time to get to know your new house
Don't rush into anything, especially if it involves buying 10 rolls of expensive wallpaper! Your initial ideas will almost definitely change once you've spent time living in each room. Sometimes it's easier and less overwhelming to start from a blank canvas, so if you're staring at rooms covered in hideous wallpapers or awful paint colours, strip it all back and paint it white. This will make everything more liveable and help give you the space to plan. Try using V33 Multi Surface Renovation paint, £30/5L, which is a tough and durable white paint that can be used on anything from wallpaper and plaster to wood and radiators.
Get the basics right
Flooring, lighting, sockets and switches are important to get right first time, because changing them involves the most upheaval. You don't want to have to replaster and repaint a bedroom wall because you've decided that wall lights are better than table lamps beside your bed.
Once you've decided on the look and feel you want to create, start with one room at a time, as tackling a whole house in one go can leave you feeling overwhelmed. Buying a cushion, fabric or painting that you love is often a good starting point for a scheme. You can then pick out the colours in that design for paints and other furnishings.
David Cleveland
Plan your scheme
Even if you have one scheme for the whole interior – for instance, Scandi or contemporary rustic – each room doesn't have to be identical. Incorporate a few common themes or colours in each space, but perhaps choose a slightly different shade for the walls. A pale pink might be beautiful in your light-filled living room, but feel a bit wishy-washy in your dark, north-facing office – work with the qualities of each space.
Less is more
Don't over do it, less really can be more when it comes to putting a scheme together. It's important to include a bit of breathing space – incorporating white in a scheme whether it's on the walls or furniture will make the rest of the room have far more impact.
Incorporating white not only makes the rest of the room look more impactful, but it can be painted over easily if you later change your mind. Get the look via Marks & Spencer Marks & Spencer
Spend money...
...On important furniture such as the sofa, bed, bath and kitchen table and buy quality that will last. Even if you have to save up, it's better value to get the piece you love and will want to keep than going for something cheap and uncomfortable that will fall apart in a few years.
Making your mark
Avoid the show home look by incorporating pieces with character; a vintage leather armchair will look fab next to a modern sofa and an antique picture will provide contrast in a contemporary living room. It's also vital that your home reflects the people who live in it, so add personality with art you love and collectables, fill shelves with books you've enjoyed, and remember that making a home is a life-long journey and something that grows and evolves over time.
WHAT'S YOUR DECORATING STYLE?
Try our quick quiz to discover the scheme that's perfectly you!
1.What matters most in your home?
A. Cosiness
B. Simplicity and order
C. Feel-good colour
2. What's your favourite wood for furniture?
A. Something that shows its age and natural textures
B. Ash, birch and pale oak
C. I don't like wood furniture
3. What colours and fabrics dominate in your wardrobe?
A. Natural linens, denim and white cotton
B. Mainly monochrome, with some pops of colour
C. Anything goes… velvets, silks, vintage buys and lots of clashing colours
4. Where do you like to shop for clothes?
A. Hush
B. Kin
C. Oliver Bonas
5. Where do you shop for interiors?
A. Nkuku
B. Ikea
C. Made
6. If paint wasn't an option, would you opt for…
A. Exposed brick?
B. Wood panelling?
C. Patterned wallpaper?
7. Where's your favourite spot for a mini break?
A. Remote bolthole in the Highlands
B. Design hotel in Copenhagen
C. Boutique riad in Marrakech
• ANSWERS •
IF YOU ANSWERED MOSTLY A: Naturally Rustic You love a home filled with natural materials and textures, lots of wood and a relaxed colour palette. IF YOU ANSWERED MOSTLY B: Scandi You love a bit of Nordic simplicity, sleek lines, plywood and pops of colour. IF YOU ANSWERED MOSTLY C: Glamour You love an eclectic home filled with bold colour, clashing pattern and the odd metallic flourish.
Like this article? Sign up to our newsletter to get more articles like this delivered straight to your inbox.
SIGN UP
Decorating a House: Where to Start
When decorating an unfurnished home, many questions revolve around price, timeline, and expertise.
If you want your house to look like a magazine, but can't afford a designer you're going to want to take the time to study what tricks they are using to create that perfectly curated and layered look. Read below to see how to furnish and decorate your home without using an interior designer. Tips, tools, and more!
Check out a few of these best selling interior design books for tips and inspiration. These books can then, double as gorgeous coffee table styling items! My friend and fellow blogger, Hannah Benak of Looks & Merit blog suggested this design book and her house is absolutely impeccable! It's in my Amazon cart right now.
JavaScript is currently disabled in this browser. Reactivate it to view this content.
New Construction Interior Design Ideas
As mentioned in this post, we are building our first home and will be doubling in size! Needless to say, I have a lot of design work to do in the coming months. Since we know the layout, finishes, and dimensions I luckily have the luxury of starting my self-design process early. If you are buying an older home and are moving in quickly, your timeline can feel much shorter, but remember, you don't have to rush your whole house design. Start small! It's always important that you live in the space for an amount of time to get a spatial feel for where furniture should go.
When you design a home quickly, I feel like this is when your budget can start to go out the door. When decorating a house, don't just buy furniture to buy furniture. Everything should be intentional and planned out. When furnishing and designing a home without an interior designer's help, follow these steps to help you stay organized and cohesive.
Whole House Decorating Plan:
Start Small Make a list of what you already have Create a budget Decide on an interior design style Collect Inspiration and Ideas from different interior designers Find an inspiration piece Have fun. Nothing is permanent
When I say start small, I suppose that is all relative depending on the scope of your project. But #1 and #7 really are just put in place to remind you to not get overwhelmed when designing your home and to have fun with it!
So when people ask how long it takes to decorate a house, there is no perfect answer. However, if we take my guest bedroom project as an example, I can tell you how long it took to decorate just one room.
Step by Step House Decorating Plan
When we decided to redecorate the guest bedroom, I already had the bed frame and mattress (#2 – Take Inventory of What You Already Have), but everything else I needed to buy. I wanted to do this project on somewhat of a budget, so I shopped at places like Amazon and Target for a few of my filler pieces (#3 – Create a budget).
After taking inventory of what current furniture and outlining a budget, I browsed Instagram and Pinterest for bedroom designs that had a wrought iron metal bed — similar to the one that I already owned (#4/5 – Decide on an Interior Design Style).
While you're searching for inspiration online for your design project, you should be on the lookout for pieces of furniture or art that really speaks to your style. If there is a specific piece that you can't imagine the room without, then deem that your inspiration piece (#6 – Find Your Inspiration Piece) and design the entire room around that. That said, you'll want to go ahead and order your inspiration piece. Often times, furniture and home decor have lead times as short as 2-3 weeks, or as long as 6 months. Lead times for furniture delivery will determine the timeline and completion date of your home decor project.
The nightstands for my guest bedroom had a 3 week lead time, so I ordered those, and had a few weeks to gather all my other design elements like wall art, bedding, and accessories. Redecorating my guest bedroom took me about a month to complete.
TIP: When gathering home decor ideas and inspiration, you might find multiple pieces that you love and fit within the same aesthetic, and that's great! This means your entire house will start to have the same design style.
Home Design Mood Boards
So, when people ask if you should decorate one room at a time, I think it's important to have one project you are fully dedicated to at one time (with a completion date), but you should always have the other rooms in your house in mind when furnishing your home.
To see your design style and conception come together, you should start by putting it on paper. Create interior design mood boards using Canva. Just screenshot the photo online and upload to their media library and drag and drop!
Finally, have fun with furnishing your home (#7). Remember, most things are returnable and nothing is permanent.
See my interior design mood boards for our new home build below!
Master Bathroom Design Ideas
JavaScript is currently disabled in this browser. Reactivate it to view this content.
Guest Bathroom Design Ideas
JavaScript is currently disabled in this browser. Reactivate it to view this content.
Open Concept Living Room Decor Ideas
Man Cave Decor Ideas
Transitional Dining Room Design Inspiration
Share this: Twitter
Facebook