Bedroom Layout Ideas: 6 Tips for Creating the Perfect Restful Space
Looking for bedroom layout ideas to transform your space into a personal oasis? These six tips for creating the ideal setup are sure to inspire!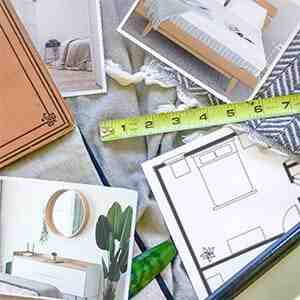 Do you know what's not restful? A bedroom packed full of stuff with nowhere to walk. On the other side of things, a well designed bedroom should feel like a place where you can breathe and just be.
But how do you know where to start? If your room is currently empty, it might just feel like a big box. If you already have furniture, the thought of rearranging it to create optimal use of your space is enough to make you want to have a nap.
But you can relax. Because I've come up with six bedroom arranging ideas that range from general to more specific. Whether your room is big, small, square or rectangular. Whether it doubles as an office, has a nook you don't know what to do with, or requires two beds – I've got you covered!
I've also added a "Make a Green" tip to each of the ideas below. Because of course you want your restful bedroom to be eco-conscious!
Bedroom Layout Ideas to Make the Most of Your Space
Bedrooms aren't just for sleeping. They're the place we start and end almost every day of our lives. And the right layout can make a big difference in the style, feel, and functionality of our bedrooms. In today's blog, the interior design experts at Star Furniture offer some bedroom layout ideas to help you make the most of your space.
Celebrate Symmetry
Especially if you're dealing with an awkwardly shaped bedroom layout, symmetry can go a long way toward making your bedroom feel intentional, balanced, and calm. One easy way to create symmetry in your bedroom is by placing the bed in the center of the room and having matching nightstands on both sides of the bed. You can even place matching table lamps on both of the nightstands for an additional dose of symmetry. But it's not just furniture and lighting that creates symmetry. You can also use carefully curated wall art for the same effect. You might, for example, buy a set of two large pieces of artwork and place them on either side of the bed.
Make the Most of Your View
Does your bedroom have a great view? Whether it's a seaside, lakeside, or poolside view—or even if it just looks out into your beautiful backyard garden—if you're lucky enough to have a nice view, you might as well take advantage of it. Start by positioning the bed so you can easily see out the window. That way you can start and end your day with a nice dose of nature. From there, you might utilize a window seat or a sitting area that faces out. Just make sure not to block the view with furniture or bulky window treatments. That way, you get as clear a view as possible.
Accommodate Architecture
One of our favorite bedroom layout ideas involves accommodating the architecture of the room. If your bedroom has a stone, wood, or brick wall, for example, you might arrange the room so that the bed is against that wall. That way, you'll better showcase the accent wall. If you have a fireplace, on the other hand, you might want to place the bed directly across from the fireplace, so you'll have a great view of the fiery glow. Whatever architectural accents you have in your room, be sure to consider them when deciding on your bedroom layout so you can make the most of your space.
Block Out Some Space to Binge Watch
Sick of straining your neck while watching TV from bed? If you enjoy watching television from the comfort of your room, you can maximize your viewing pleasure with some extra bedroom seating. Chairs or settees at the end of the bed work great as a cozy place to catch up on your favorite shows. And they double as a great place to chat with your spouse after a long day or to plop down with a great book. Not only are sitting areas a great way to fill up some extra space when decorating a large bedroom, but they can be incredibly functional, and stylish.
Drop in a Desk
With more and more people working from home, finding space for a home office is a top priority. While living rooms serve multiple purposes and tend to get a lot of foot traffic, bedrooms tend to go unused most of the day. That's why dropping a desk into your existing bedroom can be a great way to utilize extra space and double down on function. Not sure how to get started? Writing desks tend to work well in multifunctional spaces, as they don't take up a lot of room while still providing the space you need to get things done. We've even got a great resource that features small home office ideas that make the most of shared space.
Give Yourself Space to Get Ready
When it comes to bedroom layout ideas, this one is great for people with a little space to spare in their bedroom. Try creating a dressing area where you can get ready for the day. Not only is this a helpful option for people with limited bathroom space, but it's also a more comfortable option for people who really take their time getting ready for the day. To get started, find a nice vanity and mirror that fits your look. If you need extra clothing storage, you might even place the vanity between matching chests or armoires for some stylish symmetry.
Create Distinct Zones
Especially if you're decorating a large rectangular bedroom, creating distinct zones is a great way to take advantage of the extra space. You might, for example, have a seating area, a bed area, and a home office area, all within the same room. To create clear zones, you can always start with the floor coverings. Generally speaking, our eyes respond to changes in floor coverings, so having different rugs in the different areas will help the spaces look visually distinct. You can also use taller pieces of furniture, table lamps, large plants, or even partitions to establish borders between the different bedroom zones. That said, you'll want to follow a strict color palette within the room to make sure that all of the areas work together toward a cohesive look.
Squeeze in Some Storage
Not all closets are big enough to accommodate your whole wardrobe, especially if two people are sharing the space. That's why one of our favorite bedroom layout ideas involves squeezing in some extra clothing storage. While dressers and chests work great in any room, no matter the size, a wardrobe or armoire might be particularly helpful if you need additional hanging space. Because armoires tend be large, you'll want to consider putting it on the same wall as the door. That way, it won't take away from the bed, which is typically the focal point of a bedroom.
Get Playful with Room Planning
Furniture is heavy and hard to move. But you don't have to move your actual furniture to see how different layouts will fit in your home. In fact, our free room planning tool gives you a way to try out different bedroom layout ideas without all the heavy lifting. Get as creative as you like while you envision all of the possibilities for your bedroom. In fact, you can even pull up items from the Star Furniture inventory so you can see exactly how they'd fit in your space.
How to Arrange Furniture in a Small Bedroom
Just because your bedroom is small doesn't mean you have to sacrifice style. But it does mean that you might need to be more intentional about your bedroom layout. Because beds are typically the largest piece of furniture in the room, it makes sense to choose where the bed will go first. You might also consider a platform bed or another smaller scale bed that won't take up too much additional space. From there, you might want to consider furniture that has multiple functions. A storage bench at the end of the bed, for example, would provide additional storage for shoes or bedding and a place to sit. By taking advantage of multifunctional furniture, you can create a bedroom that has everything you need without feeling particularly cramped. You can also maximize your floor space by choosing tall chests rather than long dressers or by hanging high, floating shells which will help you take advantage of vertical space. And don't forget about traffic flow. Especially when decorating a small bedroom, you'll want to make sure there's enough space between each piece of furniture so you can easily make the bed, open drawers, and move around the room.
How to Arrange Bedroom Furniture in a Rectangular Room
Decorating a rectangular bedroom can be a challenge. Not only do you want the room to flow, but you also want to prevent the tunnel effect that can happen with rooms of this shape. Like with all bedroom shapes, it makes sense to choose the location of the bed first. In a rectangular room, we recommend placing the bed along the longest wall. This helps prevent the space from feeling like a tunnel. You can also place some mirrors along the long walls for some added depth. If you're dealing with a large enough space, rectangular rooms can also benefit from having distinct zones. You might, for example, create a section of the room that's designated as a workspace, a dressing area, a reading nook, or a sitting area. Just be sure to section off the different zones with rugs, plants, or even paneled room dividers. Worried about all the long lines in your space? Arranging some furniture at an angle can help break up the long lines of the bedroom for a chic, stylish look.
How to Arrange Bedroom Furniture in a Square Room
Looking for bedroom layout ideas for square rooms? Because all of the walls are the same size, you tend to have several options for where to place the bed. Many people choose to have their beds against a wall, and because beds are often the focal point of a bedroom, it makes sense to have them along any wall except the wall with the main door. From there, you'll want to consider the traffic flow of the room. You'll likely want at least three feet between the bed and the wall, and you'll need at least two feet of walking space in front of any dressers to make sure there's enough room to access the drawers. While symmetry works well in bedrooms, because square rooms are so uniform in size, it sometimes makes sense to add an asymmetrical flourish to the room to give it some character. You might, for example, choose two different table lamps or two different bedside tables for the room.
How to Arrange Furniture in a Large Bedroom
If your bedroom is large enough, it can sometimes feel like a challenge to fill the space. That's why it makes sense to choose large scale furniture when decorating a large bedroom. An oversized sleigh bed paired with large dressers, armoires, and nightstands will go a long way toward making the room feel full and intentional. Creating distinct zones is also a great way to maximize the space. Whether it's a small home office, a cozy seating area, or a convenient dressing area, you should use the extra space in the bedroom for whatever function will be the most useful in your everyday life. If you are creating zones, make sure that they're tied together through design style, furniture scale, and color palette. While you want the areas to be visually distinct, they also need to form a cohesive space.
Now that you have these great bedroom layout ideas, it's time to start shopping. Visit a Star Furniture store near you or browse our huge selection of bedroom furniture online, including beds, nightstands, dressers, vanities, benches, and more. You can even take advantage of our complimentary interior design services at our stores. In the meantime, check out our interior design blog where we cover everything from bedroom ideas for better sleep hygiene to how to make your bedroom cozy.
Bedroom layout ideas - tips and tricks to make the most of every square inch
When it comes to bedroom layout ideas, working out the most practical arrangement for bed, furniture and wardrobes can be tricky, especially if space is tight or there are awkward fixtures and fittings to be worked around. While space (or lack of space) is often the deciding factor, there are other considerations that come into play and sometimes the obvious option is not always the most practical.
How your bedroom ideas are arranged can have a big impact on its functionality, so getting it right is key. Start by drawing up a floor plan, which will make it easier for you to work out just how much space is available and what's the best position for larger items of furniture.
Measure up first so that you have the room's dimensions and then plot everything out on graph paper, making sure to include windows, doors, fixtures and any architectural details that you'll have to work around. Making paper templates of key pieces of furniture will then allow you to play around with different layouts and determine where best to position everything.
Bedroom layout ideas
While practical considerations are a must when it comes to bedroom layout ideas, creating a relaxing mood and peaceful atmosphere is essential too. The bedroom is the space where we spend the most time, whether it's sleeping, relaxing or getting ready, so knowing how to arrange furniture in a bedroom and creating a tranquil layout that creates a sense of flow and doesn't crowd the space is key.
'Organising your bedroom with Chinese geomancy in mind can aid in creating balance,' says Kate Windleton, a Feng Shui enthusiast and Relocation Manager at Strong Move (opens in new tab). 'You'll need space on both sides of the bed for a nightstand to ensure symmetry in the room. Nightstands also provide a great opportunity to personalise your space with lamps, plants and accessories. And I would also advise having a headboard - for they help represent stability.'
1. Make the bed the focal point
(Image credit: Future PLC/Tim Young)
With bedroom layout ideas, the most important consideration is where to position the bed. As the largest item, it will determine the positioning of the other large pieces of furniture, which should be as evenly-spaced around the room as possible so that the bedroom doesn't feel too crowded.
Even in small bedroom ideas, position the bed centred along the longest wall if you can. Having the bed facing the door so as you come into the bedroom it feels welcoming and helps draw you into the room. This position creates good Feng Shui too and is known as the 'commanding' position, but avoid having the bed directly lined up with the door if you can and arrange in a staggered position instead.
'Consider if your bed is right for the room,' says Jonathan Warren, Director and bed specialist, Time4Sleep (opens in new tab). 'You might have managed to squeeze a kingsize bed into the room to enjoy the extra space while you sleep, but it could be visually crowding your bedroom and forcing you to uncomfortably manoeuvre around the space.'
'Having a bed that fits comfortably within the room will allow you to have additional freestanding storage options such as wardrobes and drawers whilst avoiding looking too busy in a space that should ideally be promoting a sense of calm.'
2. Position the bed alongside the doorway
(Image credit: Future PLC/Dominic Blackmore)
If fixtures and fittings mean that you can't position your bed on the opposite wall to the doorway, then positioning it on the same wall as the door is an alternative that can still work well. This might mean that you are opposite a window, which will allow you to take in the view while you're in bed. And with the bed being hidden from view slightly when entering the door, it gives a little more privacy.
Positioning bedroom layout ideas so that the bed on the same wall as the doorway might mean that the bed isn't in the most central position, which can throw the room a little off-balance. To counter this, try to arrange other larger items of furniture strategically around the room so that space doesn't feel too one-sided. A small armchair or chest of drawers in an empty spot across from the bed might be all that's needed to bring better balance to your modern bedroom ideas.
3. Allow space for an en-suite
(Image credit: Future PLC/Brent Darby)
A bedroom with an en-suite bathroom can make bedroom layout ideas more challenging, as there will be two doorways to contend with. Good Feng Shui says that the head of a bed should never be positioned against the wall of a bathroom, but in practice that might not always be feasible. If you can, try to avoid placing the bed against an en-suite wall if there is pipework or plumbing on the reverse side which could be noisy in the night.
Positioning the bed against an en-suite wall can have its advantages, as it will mean the basin or loo aren't visible when you are in bed and the door is open. Best practice with an en-suite is to get into the habit of closing the door if you can, so that you can't see directly inside.
4. Enjoy a room with a view
Faux wood venetian blinds, Hillarys (Image credit: Hillarys)
Waking up to a good view is always lovely, so positioning the bed where you have a clear sight line to the window and no obstructions in the way is worth considering. However, if it's a south-facing bedroom with large windows, direct sunlight can cause unwanted light and heat in the mornings, so if the bed is positioned directly opposite a window, blackout blinds or curtains are worth considering.
'Our biggest exposure to sunlight is through our windows, but the right window treatment can help ensure your bedroom stays cooler for longer,' says Yvonne Keal, Senior Product Manager, Hillarys (opens in new tab). 'If it's south-facing and experiences more sunlight throughout the day, simply keeping the curtains, blinds or shutters closed will help keep things cooler. A thermal lining can protect against both heat loss (in winter) and heat gain (in summer) and can help to regulate the temperature of the room.'
5. View a window side-on
(Image credit: Future PLC/Dominic Blackmore)
Positioning the bed on an adjacent wall to the window will still allow views outside, without the bed having direct sunlight streaming down on it on summer mornings heating up the mattress. Being slightly away from the window will also keep the bed out of draughts over the colder months too.
Having bedroom layout ideas with the bed positioned directly up against a window is never advised unless it's the only option available. Aside from blocking the view and being more visible from outside, being against glass makes the bed more vulnerable than against a solid wall and the temperature will be more varied too.
6. Choose a bright spot for a dressing table
(Image credit: Future PLC/Dominic Blackmore)
When it comes to a dressing table, ideally, you'll want as much natural light as possible for putting on make-up or styling hair, so positioning one in front of a window is a good spot with maximum light coming in. Adding a smart bedroom curtain idea such as a sheer blind or voile panel will help filter the light a little if it's in a particularly sunny position.
Placing a dressing table across from a window (although not directly opposite) is another option so that the dressing table mirror will reflect the light from behind you back onto your face. When it comes to evening time, wall lights positioned to the side of a dressing table mirror will give a more flattering light than overhead lighting that is perfect for making up.
7. Utilise bedroom alcoves for storage
(Image credit: Future PLC/Brent Darby)
After the bed, bedroom wardrobe ideas are probably the next big consideration when it comes to working out bedroom layout ideas. Freestanding wardrobes are often the less-pricey option, with the added benefit that they aren't a permanent fixture so can be moved or taken with you should you move home. Freestanding wardrobes can be quite bulky and cumbersome though and take up a lot of space if a bedroom is on the small side.
Older properties often have quirky architectural details and tricky shapes to work around, so fitted furniture comes into its own here, able to accommodate awkward alcoves and recesses. Fitted wardrobes are pricier, but can be tailored to suit the size and layout of a bedroom and incorporate any specific storage needs, so can be a worthwhile investment.
When positioning wardrobes, whether freestanding or fitted, if they are to be positioned near to a bed or close to other items of furniture, make sure that there is plenty of space for wardrobe doors to open fully plus space at the end of the bed so that there is room to walk around it uninterrupted.
'Alcoves offer pockets of extra space in bedrooms, but it can often be difficult to know how to get the best use out of them,' says Rachal Hucheson, National Retail Manager, Sharps (opens in new tab). 'Where it can be tempting to add off the peg furniture or create 'nooks', bespoke shelving and fitted storage offers the perfect solution for maximising available space and creating a focal point in a room.'
8. Bridge the gap above a bed
Manhattan bedroom, from £2000, Sharps (opens in new tab) (Image credit: Sharps)
While a long run of wardrobes along one wall will provide plenty of clothes and shoe storage, a traditional arrangement like this might not be practical in a small bedroom or if there are architectural details that obstruct and make a straight run of units too tricky.
Work with your room layout instead and look to other ways of maximising a small bedroom layout. A bridge of built-in wall units spanning the space above a bed is a brilliant way of utilising over-bed space that might otherwise be wasted. Bridge units can be tailored to incorporate bedside units, cubbies and shelving and provide storage space for clothes, bedding, books and other bedside essentials.
'You need all the floor space you can get in a small bedroom, but you don't need the floor space right next to the head of your bed, so why not use it for storage?' says Rachal Hucheson. 'A bed bridge gives you all the practicality of a side table, the space-saving qualities of a shelving unit and the storage capacity of a big cupboard.'
'Creating a well-designed bedroom with enough space to seamlessly store everything is at the heart of achieving a tranquil environment,' adds Rachal.
9. Use a large rug to create balance
(Image credit: Next)
A well-positioned rug can create an anchor point for the bed in a large bedroom and help give the space a better sense of flow. Choose one large rug that sits under the foot of the bed, rather than two smaller rugs on either side. It should also be sizeable enough that it extends out on both sides of the bed, but not too big that it touches any other items of furniture or obstructs door ways.
The rule of thumb for including rugs in bedroom layout ideas is that bigger is better - a rug that's too small for a large bedroom with throw the space off-balance.
10. Mix and match furniture
(Image credit: Future PLC/Simon Whitmore)
Matching nightstands and the bed centred in the middle of the room can help create balance and symmetry in master bedroom ideas. But in a single bedroom or if space is particularly tight, bringing in mismatched pieces creates more of a relaxed, eclectic vibe that feels less formal and structured.
A nightstand on one side of the bed, teamed with a console table or chest of drawers on the other side sit perfectly well together - and having a common thread, such as a similar colour, style or finish looks more intentionally placed rather than randomly put together. Style surfaces with lamps, pictures, candles and vases in complementary tones for a chic look.
What is the best way to lay out a bedroom?
When planning bedroom layout ideas, always try to leave as much open floor space as you can, especially around the door entrance so that you can open the door fully and the walkway into the room isn't obstructed by furniture. It is also important to consider whether you are planning couples bedroom ideas or a space guests will be using.
When positioning large pieces of furniture, such as wardrobes, chests of drawers and dressing tables, make sure that you leave plenty of walking space around the bed, so that you can manoeuvre around it easily. Allow enough space for wardrobe doors to open fully and for drawers to be extended in and out. A space of roughly 50-60cm at the foot of a bed should be sufficient, with the same space again on each size of the bed so that the layout doesn't feel too constricted.
What should you not do in a bedroom layout?
One thing to always be aware of with bedroom layout ideas is to avoid choosing a bed that is too big for the size of the space. While having plenty of bed space to sleep in is tempting, a bed that is too big will make a bedroom feel tight, cramped and awkward to manoeuvre.
Squeezing too many items of furniture into a bedroom is another no-no that can also make it feel overcrowded. Instead of having lots of smaller items of storage, try to consolidate several into a single, larger piece that will take up less floor space. And try not to position tall or bulky items of furniture in front of windows, where they could obstruct the view or block out valuable light.