How to Decorate a Room from Start to Finish in 13 Steps
13 proven steps broken down to explain how to decorate a room from scratch + budgeting tips, styling advice, and ways to personalize your home.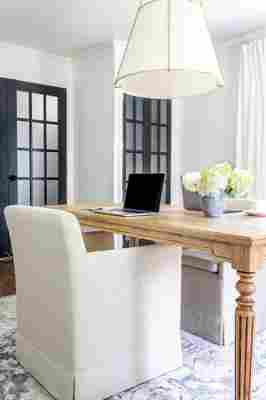 Whether it's a huge job like a kitchen renovation or a small job like a quick bedroom refresh, understanding the methodical process about how to decorate a room can make all the difference in the world.
The thought of a brand new space is exciting! But then it can start to feel overwhelming.
Over the years, I've nailed down a design planning process that I swear by, and it has guided me through so many of our room makeovers that I've completely lost track at this point.
A lot of times, people try to do everything at once. They immediately start choosing paint colors, picking out curtains, buying art and then end up confused about how to put it all together cohesively.
The truth is the most important part about decorating a room happens before buying that first gallon of paint. You can't put a roof on a house until it has a foundation. You can't build a foundation until you have a blueprint. If you don't know how to decorate a room, the order of events are so important.
This 13 step process I've used for years will give you the blueprint you need to build a beautifully decorated room exactly the way you want it from start to finish every time.
How to Decorate a Room in 13 Steps
1. Find Your Style
You're probably sitting there like, "Duh, Lauren." But it's worth mentioning!
Before I figured out what was really "us" in our home, I felt completely lost about how to decorate our empty rooms. There were too many great ideas out there and a million possible different directions. There was a big process involved to sort through my identity crisis, but once I figured out "our style", everything fell into place.
How to Find Your Style
Use your wardrobe for inspiration
Take a look at your wardrobe and think about your favorite outfits. Why do you wear them?
Do you wear a lot of prints (what type) or do you like mostly solids? Do you like getting dressed up or do you usually prefer casual? What colors are represented the most in your closet?
One of my favorite outfit combinations is jeans with a blazer and ankle boots. It's classic, dressy casual, sometimes layered with a subtle print top, and because my closet is mostly full of neutrals, blues, and greens, it's reflected in our interiors as well. It's my comfort zone both in my clothes and in our rooms.
Look for commonalities in saved photos
Browse through Instagram, Pinterest, and blogs to save any interior design ideas that inspire you. Once you have collected a lot of images, look back through them and see what elements they have in common. Sometimes we only save a room idea because of 1 or 2 details that grab our attention.
By reviewing a large album of those photos we save and looking for commonalities, we can better pinpoint what our subconscious loves even if we can't put it into words. Do the photos have similar furniture shapes? Do they share a similar color palette? Are the wall moldings conducive to a certain style?
Write those similarities down. Those details make up your personal style, even if you only knew it subconsciously before.
Ask yourself what mood you want your home to have
Describe how you want your home to feel in 2-3 words. Our environment affects how we feel, so it's a really important question to ask yourself.
Here are some words to help you decide your room feel. Pick 2 or 3 of them. Then, as you decorate, ask yourself if each element fits in line with your chosen moods.
Cheerful Serene Fresh Bold Bright Edgy Innovative Trendy Inviting Crisp Inviting Collected Minimal Fun Sophisticated Clean Casual Friendly Vibrant Timeless Formal High-End Neutral Airy
2. Decide on Your Room's Functional Needs
Ask yourself what your room is currently lacking that would make it function better for your family.
What storage solutions do you need?
How do you and your family use that space day-to-day?
What changes to the room would make your routine easier?
If you have limited space, what are some pieces of furniture that could serve a dual purpose?
Sometimes you need a dining room that can double as a home office, so planning to incorporate a buffet cabinet as storage to hide away books and a laptop helps.
With young kids, having a coffee table in a living room that doubles as toy storage is a game changer.
If you need a desk in your bedroom for work but also a space to put on makeup, let the desk double as your makeup vanity.
Whatever the case, write down your answers so that those pieces become the top priority in your room's design.
3. Keep in Mind Who Will Use the Space
Are there children present?
Do pets frequent this room?
Is this room only for you or your spouse?
I know all of it goes without saying, but I won't even attempt to incorporate a sofa or chair without easy-to-clean upholstery since we have 2 kids and a dog running around constantly testing them. Glass tables are a no-go for our current phase of life in a living room.
But in my bedroom, since kids don't usually frequent there, a reading chair with less durable fabric is totally okay.
As much as I love the look of a chandelier above a bed, I know my hot-natured husband will not be on board for anything but a ceiling fan. So I can plan for that ahead of time.
You know your family's likes and dislikes and what they can handle better than anyone. After "Functional Needs", write those smaller details next in your plan.
4. Make a Wish List
This step is especially important if you're designing a larger renovation like a kitchen or bathroom. Have a brainstorming session to jot down every single thing you can think of that you want in the space and use that as your jumping off point to decide how much you'll need to spend.
Once you have written down every element you can think of that you want, prioritize your list from most-important to least-important. Have your spouse make a prioritized list too. (This helps later if you need to remove some of your "wants" to stay under budget.)
Talk it over with your spouse to decide what projects need to be done or what needs to be bought for everyone to be happy. (Having that conversation with your spouse is so helpful before starting a renovation so you are both "on the same page" and in continuous communication through the project.
5. Measure the Room and Decide Your Layout
Write down every single measurement in your floor plan that you can:
Room dimensions
Window dimensions
Wall widths between doorways
Any architectural details that could impact traffic flow or furniture placement
Start planning where you want to place furniture in the room. Consider traffic flow through doorways, directional door swings, or outlet placement for lamps or electronics.
Tip: You can even place painter's tape on the floor to mimic the size of a piece of furniture and get a better visual. (Just make sure your floor isn't susceptible to damage using that method.)
If you want to get extra technical, Plan Your Room is a great free online tool for "trying on" layouts in your room virtually.
6. Create an Inspiration Board for the Room
Make a Pinterest board or Instagram save collection specifically for the room you are decorating. Use it to visualize how all of your inspirations work together, and let it serve you to more easily communicate your vision to your spouse and/or contractors.
7. Hash Out a Budget
Get real with the numbers. Decide what elements are worth the splurge and which items you can save on. (Even better, what items can you make yourself or thrift?)
Don't forget to include project supplies like paint brushes, drop cloths, nails, and the little things that add up.
I like to keep a spreadsheet along with all of the links to items I plan to use, so I have all of my resources and links to items I need to order in one place.
Try to leave about 20% in the budget to help with unexpected expenses or projects that go awry. (Not that any project has ever gone wrong around here. Ha! Wink wink.)
8. Think About the Rest of Your House
Before jumping into choosing colors or deciding on a final look for your room, consider how the rest of your house looks (assuming you're not planning on redecorating those rooms in the near future too).
Try to keep a general flow going from one room to the next (knowing your style makes this easy to do after a while).
Rooms don't have to match, but it's helpful to remain within a related color palette and similar decorating styles to keep your home cohesive.
9. Start with Art, Wallpaper, or a Textile to Begin a Decorating Plan
It's easier to start planning a room with one of those three items before anything else. That's because it's much easier to match a paint color to a fabric pattern (like an area rug), wallpaper, or art than the other way around. (See more tips for choosing the best paint color for your room's lighting here.)
Use that one item as your main inspiration piece.
After the fabric and paint colors, decide on coordinating fabrics, wood tones, and metal finishes to determine your furniture and fixtures, always keeping in mind your 3 mood words you chose for defining "your style".
For instance, unlacquered brass creates a feeling of warmth, formality, and timelessness. Bleached wood is associated with minimal, airy, casual spaces.
Look at all of your colors, patterns, and textures all together to see if all of the elements complement each other and align with your style, then adjust as you need.
10. How to Decorate Using a Mood Board
This is the fun part!
Creating a mood board is so helpful because you can "try on" decor in a room before buying anything. Sometimes I can't really decide if I'm happy with the room inside of my head unless I spill it all out into a mood board.
If you can see the room pulled together on a mood board and end up not liking it, you won't have to pay the price of a bad decision later.
I typically use Canva to make a room design mood board, but you can also use something as simple as PowerPoint or Google Pages. Here's a quick tutorial to show you how to decorate a room using a mood board.
11. Place Large Furniture Pieces First
Since its the sofa and armchairs that will anchor the living room or the dining table and dining chairs that will anchor the dining room, start with choosing those items before the rest of the decor.
After Step 9, these larger pieces should work into your plan next. Double check dimensions to make sure everything will fit within your layout plan, and keep asking yourself throughout the furniture selection process if the items stay true to your style.
12. Go Shopping for Accents (But Keep Swatches Handy)
Accents can be the best part because it's the little details that can really let your personality shine. Keep those 3 mood words in your mind as you choose lamps, accent tables, pillows, and accessories. (Don't forget to shop your house to see if you can use your older decor in new ways.)
When I visit thrift stores or antique shops, I like to keep paint and fabric swatches in my purse along with room measurements in my phone's notepad. That way if I find that "perfect" something, it takes out the guess work so I'll know it works in the room right on the spot.
How to Decorate a Room With Accents
13. How to Decorate With Personal Touches That Tell Your Story
No room is complete without pieces that have sentimental value to you and your family. Try incorporating a gallery wall of sentimental photos or art signifying a piece of family history or a favorite interest. We use mementos from family vacations or items from our relatives' past as decorative accents on shelves or tabletops.
Those pieces are what make a house a reflection of your family, and I mean, they're free so why not? And they're pretty fab conversation starters when guests come to visit.
A room that looks magazine-worthy is pretty and all, but nothing can beat a room that is decorated from the heart.
That's my brain on home decorating "planning mode". It's a lot, but it's become second nature for me at this point.
Robert and I usually share our ideas with each other about a room, spend some time measuring and searching for resources, and we bust out the power tools and paint brushes to make it happen.
Do you have any designing and planning methods that you use to help your rooms come together in your own home? Or are you more of a "wing it" and it still turns out beautiful kind of person?
However you do it, make it a reflection of you and your family and own it, baby.
Frequently Asked Questions
When decorating a new house, where should I start? Start with the room where you and your family spend the most time and work your way down to the least used rooms. The benefit of finishing one room before moving onto the next is you can feel less overwhelmed, you can enjoy a fully completed space while the others are construction zones, and you can see your design vision completely through without distractions. How can I redecorate on a really tight budget? 1. Rearrange your furniture to try a new layout.
2. Shop your house to use decor in a different room.
3. Check classified listings and thrift stores for secondhand furniture.
4. A gallon or two of paint can completely transform an entire room for around $100.
5. Declutter and reorganize. (That alone can make a massive difference.)
6. Spray paint your light fixtures or swap your lamp shades for a new lighting look for less.
7. Refresh just a few textile pieces – throw pillows in the living room, a comforter in the bedroom, or the shower curtain in the bathroom.
8. Swap your rugs from room to room.
9. Add a few plants.
10. Do a furniture/decor swap with your friends! Put post-it notes on items you're willing to let go of and shop each others' homes for a room refresh without spending a dime.
Related Posts
How to Create A Cohesive (but Interesting!) Decor Plan for Your Whole House
There's nothing better than decorating a space, it really is one of the best parts of any big (or small) renovation.
But when dealing with the decor for a whole house, how do you put together all the different elements in a cohesive way, without it feeling completely all over the place? I mean, it's easy to use so many different decor styles – rugs, lamps, artwork, furniture – that it lacks cohesion and feels like a complete mess. On the other hand, the last thing you want is a space so perfectly matched that it lacks character or fails to show what you actually like. It can be tricky!
When planning the decor at our renovation, I spent a lot of time working through how to create a decor plan, which was both interesting, unique but also cohesive (I think!), and I wanted to share how I got to it in the end. Read on for more.
Being a visual person, I love to put together these graphics for you. Feel free to save it or pin it to your renovation board!
How to Create A Cohesive (But Interesting!) Decor Plan for Your Whole House
Create a Moodboard For Your Space
It really pays to create a moodboard when you do anything creative, and decorating a space is no exception. I always start with a moodboard of textures, colours, rooms, design styles and furniture that I like. From this I like to hone in on the style I like, keeping or rejecting images or items depending on how they go together. If you can, don't skip this process, as it's a really useful way to visualise what you want, and it also helps you avoid that mess of design styles that can happen when you get over excited and try to jam everything you love into one space.
Develop A Colour Palette
Choosing colours carefully is one of the easiest ways to ensure cohesion in a space. You'll remember how much time I spent thinking about the colour palette for our renovation! If you're dealing with choosing the paint palette, it's worth thinking about the colours you will be using in terms of the whole house, rather than choosing a plan room by room. I mean, you can definitely play around with paint tweaks in different rooms, but it's worth choosing a set of colours that make up your overall palette. In addition to paints, the colour palette extends to all other elements in your home, including textiles and small decor items like pots as well as books and lamps. It's worth really understanding your colour choices as I think this has a huge impact on the decor of a space.
Mix and Match Your Furniture
You'll know by now that I'm all about mixing and matching when it comes to furniture. For me, it actually pays to mix up your furniture styles rather than stick with one style, which can feel a bit forced or like a showroom. But I know the concept of 'mixing and matching' can be a bit daunting if you're not sure what will go together. Experimenting here is useful, but what can help is to select a few different styles, for example – mid century, industrial and cane – rather than simply adding as many different types as you can. Choosing a few styles that work together and using them throughout the house is a great way to add interest but still have a cohesive look.
Decide on a loose theme for your Textiles
For me, textiles like rugs, sofa fabrics and cushions absolutely make a space and I think they add so much personality and allow you to get creative without doing anything too permanent. But here too it's useful to consider a bit of a theme throughout the different rooms in your house. Neutral textiles work in most spaces, but if you're looking to integrate colour or patterns you might consider choosing similar styles or complementary colours and patterns. Finding commonality in your textiles, whether it be the tones, patterns or textures, goes a long way to adding cohesion to a space without it being boring. For our renovation, I chose simple furniture but used patterned and bright rugs and cushions from Morocco to make it feel like home.
Experiment with Artwork & Decor Objects
One place you can truly get experimental is with artwork and decor objects like candles, baskets, pots, books. As I mentioned above, the colours of these things will tie the whole space together (or not), so it's with being selective in how your art or smaller decor supports the overall colour palette in your space. That said, you can also try out new things using art and decor, and mix it up in each room so that there's an element of the unexpected.
Use plants to tie the space together
Finally, what's a room without a few great plants? I'm kind of embarrassed to admit that when I'm planning the decor for a home I even think about the tones of green that different plants have. I tend to think that different plants go well with different decor styles – deeper greens give a more tropical feel whilst light green leaves feel more minimalist. I think I could write a whole post (or perhaps a whole book!) on this alone. Obviously to say more is more when it comes to plants, but it pays to think about what you choose.
7 Steps to Create Your Whole House Color Palette
Disclosure: This post contains affiliate links. I may receive a small commission, at no cost to you, on purchases made after following an affiliate link. See my full disclosure here .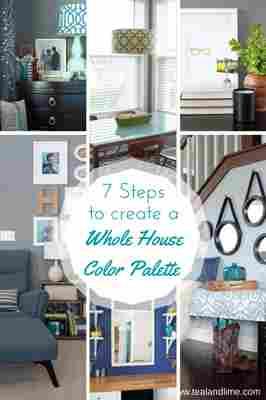 Creating a whole house color palette, before painting a single wall, was the best thing I ever did for my home.
After six years of home ownership, I was sick of the constant trips to the paint store to stare at way too many paint chips agonizing over which one would be best. Choosing wall colors on an as-needed basis caused extra stress and indecisiveness. And, in my last two homes, I never achieved a cohesive look. There was always one or two rooms that seemed disjointed from the rest.
In this home, I set out to decide on a color palette for the entire home upfront. Since then, I have not gone to the paint store in four years to pick out a new color and I have never second-guessed a color decision in my home. Because I did the work up front, I know I can use any color from my palette and it will fit right in with the rest of the home.
And, no, my home is anything but boring and matchy-matchy.
If anything, the restrained palette has opened up my creativity. We use a limited palette throughout our home, but vary how we use the colors from room to room to keep it interesting. For example, dark teal appears on the upper walls in my dining room. I used the same color differently in my basement family room on the painted media center. The same color reappears as an accent color in my master bedroom.
If you are ready to end the color in-decision and create a color palette that works for your home, just follow the 7 steps below.
With a whole house color palette, you will:
Create a home with a cohesive look that flows from room to room.
Make decisions upfront and never have to think of it again.
Feel confident in any wall color choice you make, because you already know it goes with all the other colors in your home.
Every home no matter the size or layout can benefit from a whole house color scheme. It doesn't matter if your home is an open floor plan or a series of separate rooms. It seems more obvious to use coordinated colors in an open floor plan or small space, but even in a home with separate rooms you don't want to turn the corner and have a jarring effect caused by an out of place color.
Here's the goal: If someone were to see your home as a series of snapshots, each room a separate picture jumbled up with pictures of other people's homes, you want them to know all of your rooms are from the same house. You create that connection with color.
If I gave someone a stack of pictures of each room in your home right now, would they know they were all from the same home? If not, read on and learn how to create your cohesive color palette.
There are only 7 steps in this system, but choosing colors can be confusing and overwhelming. To make it easier, I created a class called Create a Cohesive Home with Color with video lessons that walks you through this process step by step.
7 Steps to Your Whole House Color Palette
1. Understand Your Fixed Elements
Before you do anything else, you need to understand the colors you are already stuck with. All of the fixed elements in your home automatically become part of your whole house color palette. The fixed elements in your home include trim, cabinetry, flooring (wood, carpet, tile), wall tiles, and countertops (stone, laminate, wood).
Do not skip this step. It's the most important, which is why I included a 30-minute lesson on Identifying Undertones in my Create a Cohesive Home with Color class.
Although most of your fixed elements are probably a neutral color, even neutrals have color undertones. To properly choose colors to go with your fixed elements, you need to understand what undertone colors you are working with.
Make a list of all your fixed elements. Next to each element, write the undertone.
If the person designing your house did a good job, you should see some trends in the undertones. For example, most of the undertones of the fixed elements in my home are warm colors. My dark wood floors have a red undertone. My cinnamon maple cabinetry has a distinctly orange undertone. My white trim has a yellow undertone. Tile throughout our home has a pink undertone. Even the slate on our fireplace has warm undertones.
Check out the undertones in my kitchen:
Once you understand the undertones in your fixed elements, you basically have two options for building your whole house color palette:
Option A. Match the undertones. If your undertones are mostly warm colors (red, orange, yellow), choose a wall color palette of warm colors. If your undertones are mostly cool colors (green, blue, purple), choose a wall color palette of cool colors.
Option B. Contrast against the undertones. If your undertones are mostly warm colors, choose a wall color palette of cool colors to complement the warm undertones. If your undertones are mostly cool colors, choose a wall color palette of warm colors to complement the cool undertones.
I almost always prefer Option B, complementing the undertones, because it provides balance and prevents your home from being too warm or too cold.
The rest of the steps show you how to choose wall colors. In Step 2, you will choose a color scheme. The remaining steps are like a choose-your-own-adventure for your color scheme (monochromatic, analogous, or complementary).
2. Choose a Color Scheme
Popular advice suggests you choose your color scheme based on some sort of inspiration. All too often, I think people either waste time looking for inspiration or use an inspiration image as a crutch. You may choose an inspiration you appreciate, but don't love. You may not understand the color theory behind your inspiration, which makes it impossible to add more colors to your palette. You get locked into your inspiration.
I want to help you choose a palette that is best for your home. I want you to understand the basic color theory behind your chosen color scheme. I want you to know how to add colors to extend your palette.
In my experience, it is better to start with the overall feeling you want for your home and what your favorite color is. Your desired feeling and favorite color will lead you to the right color scheme. Once you know which color scheme is best, you can look for inspiration in nature, interiors, fashion, and fabrics to help you round out your palette.
Vintage Color Wheel Image via
There are many color schemes to choose from, but some practically require a Ph.D. in color theory. To keep it simple, focus on one of these three color schemes:
Monochromatic
Use one hue for your entire color palette in different shades, tints, and tones. This color scheme is great if you only like one particular color. It is also great for the color-shy because using the same hue lessens the contrast in the space and reads more like a neutral space.
If you are matching the undertones of your fixed elements, your starting color (in Step 4) should be on the same side of the color wheel as your dominant undertones.
If you are complimenting the undertones of your fixed elements, your starting color (in Step 4) should be on the opposite side of the color wheel as your dominant undertones.
Analogous
Also sometimes called harmonious, this color scheme uses colors adjacent, or next to each other on the color wheel. For example, blue, green, yellow or purple, red, orange. This color scheme is very livable and generally feels relaxing and calm.
If you are matching the undertones of your fixed elements, your starting color (in Step 4) will match your dominant undertone and then you will build your palette with colors next to it on the color wheel. For example, if your undertone is red, then the analogous colors would be purple, red, orange or red, orange, yellow or blue, purple, red.
If you are complimenting the undertones of your fixed elements, your starting color (in Step 4) will be a color opposite your dominant color undertone on the color wheel, then choose colors next to it to build the rest of your palette. For example, if your undertone is red, then start with green and use the analogous colors, like yellow and blue.
Complementary
Complementary colors are directly opposite each other on the color wheel. For example, blue and orange, yellow and purple, red and green. This type of color scheme is not for the color-shy. It is a more energetic and lively color scheme because it is all about contrast.
If you are matching the undertones of your fixed elements, start with a monochromatic or analogous color to your dominant undertone in step 4.
If you are complementing the undertones of your fixed elements, then start with a complementary color to your dominant undertone in steps 4.
Above are three basic color schemes to get you started, to learn more about color schemes check out the Create a Cohesive Home with Color class.
3. Choose Your Neutrals
Neutrals are an important part of any color palette. In this step, you need to choose a white and a dominant neutral color.
Choose a White
Choose a white with the same undertone as your fixed elements or a complimentary undertone. This is a personal preference. I recommend testing samples of several whites. They all look white in the paint store, but on the wall next to each other, you will see the difference in the undertones.
The white you choose here will be the default white color used for trim, cabinetry, furniture, and ceilings. For example, my undertones are warm, so I chose a white that has a slight yellow undertone, making it a warm white. This is the color of our trim and doors throughout our home.
Choose a Neutral
Choose a default neutral. This will be your go-to neutral color to use in all the connected areas of your home, like open spaces, hallways, and lofts. It is also great for closets and bathrooms. You have three choices with your default neutral.
Option A. A warm neutral is anything from warm white (yellow or pink undertone) to beige to brown. A warm neutral will coordinate with warm undertones, like red, orange, or yellow. A warm neutral will complement cool undertones, like blue, green, or purple.
Option B. Cool neutrals are anything from a cool white (blue or green undertone) to gray to black. A cool neutral will coordinate with cool undertones, like blue, green, or purple. A cool neutral will complement warm undertones, like red, orange, and yellow.
Option C. Greige colors were created for the indecisive. Greige is a mix of grey and beige. It is basically like a chameleon and can go well with warm or cool colors. I think griege works extremely well for complementary wall color palettes.
Since I prefer complementing undertones to create balance, the dominant neutral in my home is Driftwood Grey, which has a blue undertone. The blue undertone of my neutral complements the orange and red undertones of my cabinetry and flooring. Because my fixed elements have warm undertones, I can get away with cool wall colors without ever worrying about my space feeling cold.
4. Choose One Bold Color
Bold is relative here, but this color will be the boldest in your entire color palette, meaning it will either be the darkest or most saturated color.
What color should you choose? A version of your favorite color, which either matches or complements the undertone of your fixed elements (based on your answers from Step 1 and Step 2). Your favorite color is probably the only one you won't tire of and the one you are most comfortable risk-taking with because you love it.
My favorite color is turquoise, but I wanted to go even bolder. So, the boldest color in my palette is Plumage, a very dark, saturated teal.
Your bold color might be a lot lighter and less saturated than mine, but it will be the boldest in your palette.
If you are color-shy, start with colors that act as neutrals. In the Sherwin Williams paint deck, they call these Fundamentally Neutrals. You know how blue jeans go with everything? It's because they read as neutral. The Fundamentally Neutrals are the blue jeans of paint color.
5. Choose a Friend for Your Bold Color
The second color you choose should be the best friend of your bold color.
If you are creating a monochromatic or complementary wall color palette, then choose a tint (lighter version) of your bold color for this step.
If you are creating an analogous wall color palette, then choose a color next to your bold color on the color wheel. For example, if your bold color is purple, then you would choose a red or blue for your second color.
My wall color palette is analogous. Since my bold color is dark teal (which is a green), I chose a dark blue, called Azurite, for my second color. It is the wall color in our guest room, the accent wall color in my studio, and the accent color for the mural in our pirate-themed playroom.
My second color also happens to be bold, because I am not color-shy. The intensity of the colors you choose for your palette is up to you.
6. Choose an Accent Color
This color will be used sparingly in your home or used to create a dramatic impact. Either choose a color using the guidelines below for your color scheme or choose a neutral that contrasts with your default.
If you are creating a monochromatic palette, then choose a tint (lighter version) or a shade (dark version) of your bold color for this step.
If you are creating an analogous wall color palette, then choose either a tint of your second color or an analogous color on the color wheel. For example, if your bold color was purple and your second color was blue, your third color could either be a lighter shade of blue or it could be a green, which is next to blue on the color wheel.
If you are creating a complementary color palette, then your accent color should be a complementary color (opposite on the color wheel) to either your bold color or your second color. For example, if your bold color is blue and your second color is green, your complementary accent could be orange or red (the respective complements of blue and green).
In my home, we chose a charcoal gray called Zinc as our accent color. It is a dark charcoal gray, which contrasts with the lighter blue/gray of our default neutral. We use it on the walls in our living room and our office. It also appears on some of our larger upholstered furniture. We used this dark gray to make our two-story living room feel cozier.
7. How to Extend Your Color Palette
The steps above result in a 5-color palette. A good rule of thumb for a cohesive color palette is to use no more than 5 distinct colors throughout your home. In this case, a white, a neutral, and 3 colors.
But, that doesn't mean you are limited to only 5 paint colors in your home.
Here are two ways to extend your palette and stick within the 5 distinct color rule:
Choose more colors that are a shade (darker) or tint (lighter) version of your chosen colors. Choose colors that match an undertone in one of your neutrals and fit within your overall color scheme.
My whole house color palette only has 5 distinct colors; white, blue/gray, dark gray, blue, and green. But, our actual paint palette has over 10 colors, because we have a few shades and tints of blue, green, and gray.
The dark gray we use in our living room, office, and master bedroom, was the inspiration for the wall color in my son's room. The dark gray color, called Zinc, has a green undertone. So we chose a green, called Schoolhouse Slate for my son's room. With our overall blue and green analogous color scheme, it fits right in.
For more help with understanding undertones and creating your whole house color palette, check out the Create a Cohesive Home with Color class.
How to Use Your Color Palette
Keeping Track of Your Colors
1. Get a minimum of two paint chips for each color in your palette. Make sure they have the color mixing information on the back. If not, ask the paint store to print you a label (that they would normally put on the mixed can of paint) and stick it to the back of the paint sample. With this information, you will always be able to get the same color mixed, even if they stop carrying it.
2. Create a swatch book. This is a place to collect paint swatches and other samples for every room in your home. Great for planning your rooms, but also great after they are complete to refer to before making a new purchase for the space.
3. Create a key chain of mini paint samples. For the ultimate portable color palette, create a color scheme key ring to take with you everywhere. You will never wonder again if that piece will go with the wall color in your dining room.
4. Create large sample boards. Because you will be using these colors over and over again in your home, it is handy to have large samples ready to go. I used to make these on foam core, which warped a bit with the paint, until my friend Heather from the blog Setting For Four, suggested using $1 canvases from the dollar store. The cheap, flat canvases are perfect for color samples. They are lightweight, can be taped to the wall, and store flat. Whenever you need to choose a color for a new room, you can bring all your big samples into the space.
Which Color Goes Where?
Here is how to use the five colors in your palette:
1. White
Use for trim, cabinetry, furniture, and ceilings or anything else you want to paint white, even the walls. Stick with one white color and always keep some on hand for touch-ups.
2. Neutral
I call this the default neutral because it is your default in all open, connected spaces of your home. It is also the back up when you don't know what color to paint a space. Works great for small spaces like closets and bathrooms, where you don't want to choose another color.
In my home, Driftwood Grey is my default neutral. It runs from our front door through the foyer, up the stairwell, around the second-floor hallways and loft. It goes into the kitchen and mudroom. By using this one color throughout all the connected hallways and open areas we didn't have to agonize over where to start and stop color.
3. Bold Color
This is the color you use when you want to create a big WOW factor. I used my bold color, Plumage, above the board and batten in our dining room. I also used it as a wall color in my son's nursery. It makes a statement in the dining room. It makes the nursery dark and cozy.
Your bold color is hard to pull off in open areas. It works best in separate rooms or as an accent wall only.
4. Second Color
This color is great for any room. It isn't as bold, so it is easier to live with. It works best in separate rooms or for a more subtle accent wall.
5. Accent Color
This color should be used sparingly on walls or intentionally to create a certain feeling in a room.
If this is a complementary color it should be used carefully and only in rooms where the adjacent colors are complementary. If your color palette is blue and green, with orange as a complementary color, only use the orange in an area where the adjacent rooms are blue or neutral, not green.
If this is part of a monochromatic or analogous color scheme, you can use it pretty much anywhere, like your second color.
If it is neutral, it should be a more dramatic neutral. For example, our accent color is dark gray, called Zinc. We chose it to make our two-story great room cozier. We loved it so much we repeated it in my husband's office for a masculine look. When I wanted to make our light blue master bedroom moody, I used Zinc on the accent wall behind the bed.
6. Extended Colors
If you want all the separate rooms, like bedrooms and bathrooms in your home to be a different color without your house looking like a circus, extend your existing colors.
Choose shades (darker) or tints (lighter) of one of the three colors or the neutral in your palette. Choose as many as you like for all the rooms you have. My favorite trick is to use a tint of the bedroom color in an adjacent bathroom, or in any two rooms that flow together.
Vintage Color Wheel Image via
In our home, the bold color is dark teal. My laundry room is turquoise, a tint of dark teal.
Also, remember that the same paint color used in two different rooms could become a totally different color depending on the natural light in each room. Sometimes this is a disadvantage because it doesn't look the way you want. But, you can also use it to your advantage to get more miles out of the same paint colors.
Phew! Did you make it?
I know that was intense. But, I promise if you work through this process once you will never have to think about your wall colors again. You can start living your life outside the hardware store paint aisle. Wouldn't that be nice?
For more help with understanding undertones and creating your whole house color palette, take my Create a Cohesive Home with Color class and learn how to confidently choose wall colors and accent colors for your home.