The 10 home appliances that Consume the most energy
Contributed by Adam Graham, a construction industry analyst at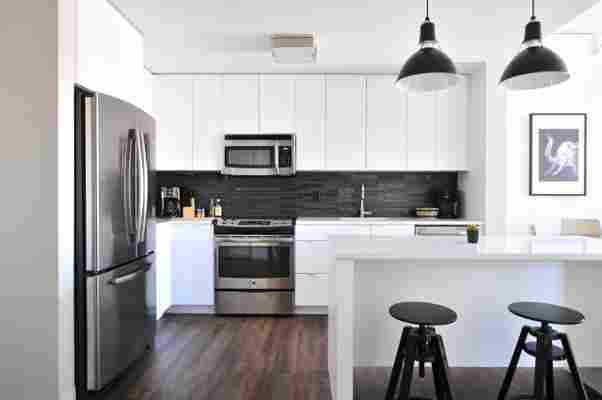 When it comes to residential energy consumption, people are constantly striving for ways to reduce their monthly bills and energy usage and wastage. By looking at the US Energy Information Administration's (EIA) annual energy outlook, we can see the top 10 appliances that are consuming the most energy in U.S. single-family homes.
We use energy every day in a variety of areas of our daily lives, and although we may struggle to live without it, there are ways we can cut down on consumption. In the graphic below, we analyze the top 10 home energy appliances using the most energy, along with ways to reduce their consumption. This information could help homeowners make wiser choices in regards to their energy efficiency efforts but also understand a house's energy needs and main energy consumers if, for example, they are considering investing in solar panels at home or opting for renewable energy sources for their systems' fuels.
The above graphic shows which appliances use the most energy by the percentage of total end-use in single-family homes. They are grouped by appliance, apart from "Other Uses", which is made up of various devices that individually do not necessarily make much of a notable impact, whereas together make up 26.2% of the total.
1. Heaters
By far the biggest user of energy in homes are heaters, accounting for 31.3% of a home's total energy consumption. Here then is where the greatest focus should be applied for reducing energy. One of the first steps is to carry out an energy audit, which can tell homeowners where energy is being lost. Once identified, efforts can be made to specific parts of the home to ensure heating efficiency. One main area that causes heat to escape is insulation issues. Homeowners will find loose-fill insulation to be the easiest to have installed, whereas new home builders should opt for spray foam.
2. Water Heaters
Using 13.6% of a home's energy, water heaters are the second-biggest consumer. A necessity for year-round use, finding energy-efficient solutions is a priority when looking to reduce consumption. One way is to install a tankless water heater, due to the fact that they only heat water as and when it is needed, as opposed to continuously heating water throughout the day. Another option that uses renewable energy is a solar water heater. The cost of a solar water heater averages between $2,800 and $9,800 depending on the type.
3. Cooling Appliances
To cool a house requires significantly less energy than to heat it, with 10.7% of the total. However, it is still number 3 on the list and therefore one of the areas where focus on energy efficiency efforts should be made. Just like how heat can escape from a home, so can cool air. Similar methods for reducing heat wastage should be applied here, such as carrying out an energy audit and installing insulation. Weatherstripping a home will also help seal up gaps and cracks to stop cool air escaping or hot summer air from entering. New appliances reach levels of over 98% efficiency, so updating them is a must-consider option too.
4. Refrigerators
The refrigerator in a home consumes 4% of the total energy. As mentioned, newer appliances use up less energy, so switching to a smart fridge is recommended. Smart fridges also alert owners if there is a problem. As always with new appliances, Energy Star-rated ones are best for lowering energy usage.
5. Clothes Dryers
As with refrigerators, a clothes dryer is another appliance that can be replaced with a newer, Energy Star-rated version. Clothes dryers use up 3.2% of a home's energy, so cutting down on dependence on them helps. People should take advantage of line drying whenever possible.
6. Lighting
Lighting a home uses 2.8% of the total energy consumption. Although it may not be a huge amount on its own, combining energy-saving efforts with other appliances will have a greater impact. Switching to smart lighting that detects when a person leaves a room will help save energy.
7. Home Entertainment Equipment
Smart plugs are also a useful way to save energy on home entertainment equipment, which accounts for 2.8% of a home's energy. Smart plugs shut off the power completely, usually during the night. They can also track energy data to know how to better control the usage of different devices.
8. Cooking Appliances
Cooking appliances in the kitchen use up 1.3% of the total home energy usage. Although not a staggering amount by itself, it can still be reduced quite simply by adjusting habits accordingly. Some examples are using the correct sized pots and pans, choosing the right appliance, and keeping the appliances clean.
9. Computers
Computer and computing equipment uses 1.1% of the energy consumed at home. Shutting computers off completely at night will help reduce this amount. There are also computers which are more energy-efficient than others, meaning it's wise to shop around when it's time to buy a new one.
10. Furnace Fans & Boiler Circulation Pumps
The mechanisms to work devices that heat homes and water contribute to energy consumption themselves, adding 1.1% to the overall energy usage in a home. One way to save on energy, in this case, is to switch to a heat pump, one of the most energy-efficient options, although they are mostly recommended for mild climates. For colder climates, opt for high-efficiency furnaces and boilers.
Whereas these appliances make up the top 10 individually, it's also worth noting that there are a number of household appliances that when combined make up 26.2% of the overall energy consumption at home. These appliances include heating elements, natural gas-and propane-fueled lights, electric and electronic devices, pool heaters, spa heaters, motors, outdoor grills, and backup electricity generators. Although individually these elements are not enough to make the top 10 list, energy-saving tactics should also be applied to them.
Being aware of where energy is consumed the most in a home allows people to focus their efforts on bringing those energy levels down. Whether it is to save on monthly bills or protect the local environment, it is useful to know where and how to cut consumption.
About the author
Adam Graham is a Construction Industry Analyst at a website that offers home remodeling cost-guides and connects homeowners with service professionals. He analyzes and writes about the home construction industry, interior design trends and real estate.
23 Must-Have Kitchen Appliances (2022) Every Home Needs
The kitchen is the heart of the home for many people and they love spending time there creating meals for themselves and others. But some people just want to be able to throw together a quick meal and get back to the other things in their life. Maybe you want to add some technology to reduce your waste. Whatever your opinion on the kitchen is, you still need to spend at least some part of your day in there. Why not make the most of your time there by investing in some small kitchen appliances and gadgets that can simplify your time there and make it less work? Whether you are looking for a new kitchen appliance or just a fun gadget, we have over 20 small kitchen appliances you need in your kitchen. Feel free to skip ahead to the section you're looking for:
First, we'll start with our top 5 recommendations for must-haves that would make a great addition to your kitchen.
Our top picks: 5 kitchen must-haves for everyone
Looking to save time and space in the kitchen? Or perhaps you're looking for something you can control with your phone. Here are our top 5 essential kitchen appliances.
15 must-have kitchen appliances everyone is gushing about
Whether you are looking for something to do the work of multiple small kitchen appliances, something that will help you take items off your to-do list, find some eco-friendly appliances or find a gift for that expensive sibling, this list has something for you. Not only that, but they are sure to wow your friends and family.
The Ninja Foodi takes the place of several small kitchen appliances. This small appliance can air fryer, pressure cooker, steamer, and so much more. Not only is it easy to use, but it is also a breeze to clean.
Price: $199.99
Why this is a kitchen must-have: Not everyone has the space for a bunch of appliances that only do one job. This one machine can do it all and saves you space and money.
Looking for a quick and easy way to turn your food scraps into nutrient-rich dirt that you can use to feed your plants? Look no further than the Lomi electric kitchen composter. This little device does the work for you so you can take composting off of your to-do list. Just throw in your food scraps and with the push of a button, Lomi turns your waste into food for your plants.
Price: $499.00
Why this is a kitchen must-have: Traditional kitchen composting bins can be smelly and time-consuming. Lomi quickly handles your composting without the stink!
Lomi ★★★★★ Lomi allows you to turn food waste into plant-ready nutrients in under 24 hours. Boost your plants while reducing your waste. Learn More
If you love cooking then you probably do a lot of chopping and mixing. Wouldn't you like something that makes that a little easier? This food processor makes quick work of your favorite recipes and is also a large blender for making smoothies and a powerful juicer. This is another multi-functional appliance you want to have in your kitchen.
Price: $149.95
Why this is a kitchen must-have: Just like the Foodi, this appliance can rid you of needing to pull out a bunch of other appliances to make your favorite recipes. Less work for you and less space being taken up in your kitchen!
Want to impress your friends with some fancy cocktails? This appliance is a fun and easy way to make a variety of different cocktails. No need to scroll through the internet for cocktail recipes. You'll be able to wow your guests or enjoy a cocktail on a quiet evening in no time without a bunch of work.
Price: $299.99
Why this is a kitchen must-have: Not only is this machine easy to use, but it is super simple to clean. It rinses between drinks, has a cleaning mode, and most of its parts are dishwasher safe for easier cleaning.
Here's another appliance that can take the place of many without taking up a lot of space. This machine does more than just an air fry. It's also a dehydrator, rotisserie, and convection oven all in one. It even has an auto shutoff so you can set it up and walk away without having to worry about it.
Price: $189.57
Why this is a kitchen must-have: This appliance can cook a whole lot of food with its 10L capacity, but with its sleek design it won't take up too much space on your counter. You can cook large batches of food and take care of dinner for the whole family with one small appliance.
Nobody likes refilling ice trays and sometimes it can be a workout just trying to get the cubes out of the tray itself. Instead of fighting with a stubborn ice tray, get yourself a nugget ice maker. This machine will give you a constant supply of ice without any of the hassles.
Price: $629.00
Why this is a kitchen must-have: As the name suggests, this machine makes nugget ice cubes that are smaller and better suited for your beverage needs.
Who doesn't love a cold treat on a hot summer day? Going out for ice cream or sorbet is great, but maybe you just want to enjoy a yummy treat at home. This ice cream maker makes your favorite frozen treats quickly and easily in the comfort of your own home.
Price: $168.00
Why this is a kitchen must-have: You get to control what you put into your ice cream so you know what ingredients you're using and can customize the flavor. Plus it saves you money!
After a long day at work, the last thing you want to do is come home and cook dinner. Wouldn't it be nice to come home to a hot meal at the end of the day? This smart instant pot has wifi capabilities so you can start it at just the right time so it can be ready when you want it. It can take the place of your rice cooker, slow cooker and so much more!
Price: $149.99
Why this is a kitchen must-have: Started cooking too early? No need to worry about overcooking your meal or having it sit on the counter and get cold or spoiled. This instant pot has a warming function that will keep your food warm until you are ready to eat.
Sometimes all you have time for in the morning is some toast or a bagel, but you want it toasted just right. Look no further than this toaster with smart sensors that can customize the heating process depending on what you put in and the selections you make. It even has extra wide slots so you don't have to worry about squishing your bagel to get it to fit.
Price: $299.965
Why this is a kitchen must-have: This toaster also has a frozen setting so you can put your frozen bread or whatever you choose to toast without thawing first and it still comes out perfect!
Some days you just don't want to use a conventional oven and that's where this toaster oven comes in. Whether you want to toast some bread, heat up some frozen french fries, or bake some brownies, this machine has you covered.
Price: $92.11
Why this is a kitchen must-have: This toaster oven can fit plenty of food including 12-inch pizzas, casseroles, and even whole chickens!
This is not like normal coffee makers. Your morning coffee could be as simple as saying "Alexa, brew me some coffee" without even leaving your cozy bed. No need to run down to your local coffee shop. You don't even have to download any special apps to use this smart coffee maker. Just use your Alexa app or talk to your Echo device to voice control your coffee maker(you can even just use it like an ordinary coffee maker).
Price: $99.99
Why this is a kitchen must-have: If using Alexa voice commands to get your coffee brewing isn't enough for you, you can also use the Alexa app to control the strength of your brew.
There is truly nothing better than the smell and taste of fresh, homemade bread. This bread machine will have you making bread dough, baking cakes, and delicious loaves of bread in three easy steps.
Price: $99.99
Why this is a kitchen must-have: Gluten-free, but still want to make fresh bread? This machine even has a gluten-free setting so you can enjoy bread making without the gluten.
For days that you want something more than toast or a cup of coffee, a breakfast sandwich can be a nice change of pace. You don't want to have to pull out a bunch of pans that you'll have to clean later and stand in front of a stove waiting for everything to cook. This breakfast sandwich maker from Hamilton Beach takes up very little space and makes you delicious breakfast sandwiches in no time at all.
Price: $50.68
Why this is a kitchen must-have: No need to worry about a bunch of dirty dishes to hand wash. This machine is made up of dishwasher-safe parts so clean-up is just as quick and easy as making your breakfast.
Store-bought juice is filled with a bunch of extra ingredients, including a bunch of unnecessary added sugar. Unfortunately squeezing your juice at home by hand is something you don't always have the time or desire to do. Thankfully the juice fountain from Breville takes the hard work out of making freshly squeezed juice at home.
Price: $279.95
Why this is a kitchen must-have: Made too much juice and can't drink it right away? Don't worry this appliance has a large storage capacity and you can store your juice in the fridge for up to 3 days.
Most people need a kettle in their kitchen whether they use it to make a hot cup of coffee or tea, or for whatever else you might need hot water for. If you don't want to wait for hot water to boil on the stove but you don't want your water to taste like plastic after it boils, the ultra kettle from Mueller is the high-quality kettle you need.
Price: $49.99
Why this is a kitchen must-have: Many electric kettles have a cumbersome cord attached that can be a real hassle when you're working in the kitchen. Thankfully this kettle's cord is attached to the base which the kettle easily pops off of allowing freedom of movement.
8 must-have kitchen gadgets for effortless cooking
Not all of your kitchen needs can be covered by air fryers, toaster ovens, and food processors. Sometimes you need smaller kitchen tools to get the job done. These 8 items will take up even less space in your kitchen, but free up even more of your time.
Some recipes require you to stand at the stove and constantly stir the ingredients, but you have other things that require your attention. Have no fear! This nifty little gadget can do the work for you while you attend to all of your other responsibilities.
Price: $25.00
Why this is a kitchen must-have: This easy-to-clean gadget not only saves you time in the kitchen but also saves your arm from having to do all that stirring.
Whether you eat low carb or are trying to get more vegetables in your diet, you might want to try replacing your pasta with vegetable noodles. Instead of chopping vegetables up and cooking them as you normally would, why not spiralize them to give your dish more of a traditional pasta feel?
Price: $$20.99
Why this is a kitchen must-have: This gadget quickly spiralizes most vegetables and has a convenient attached cup to hold them as you work.
Want to cook your meat to the perfect temperature, but can't quite nail telling when it's done by looking at it? This smart meat thermometer can give you the precise temperature so you can cook it to your desired temperature. It even has presets to easily cook your meat to perfection.
Price: $129.99
Why this is a kitchen must-have: This gadget is equipped with Bluetooth so you can set timers and alerts and be notified when your meat is ready from 150 feet away.
Nobody likes digging through their cabinets looking for the spices they need for a recipe. Not to mention dirtying a bunch of different measuring spoons for one recipe. This carousel solves both of these problems by storing your spices in one spot and allowing you to select the right measurement without you having to wash a bunch of measuring spoons.
Price: $42.79
Why this is a kitchen must-have: Have a lot of spices? No worries because this carousel can stack so you can store up to 48 different herbs and spices all in one easy-to-access spot.
If you like food prep or need to chop a bunch of ingredients for a recipe you know how hard it can be to chop all of your foods up and store them without pulling out a bunch of different containers and running out of counter space. This cutting board has convenient drawers underneath so you can store your freshly chopped foods as you go. Who knew cutting boards could have so many functions?
Price: $49.99
Why this is a kitchen must-have: The drawers all have lids so you can easily stack them in the fridge, or just put the whole cutting board in to keep your food fresh until you're ready to eat.
Cleaning the microwave is not something most people enjoy doing. Angry mama makes it quick and easy to check off your to-do list. It uses steam and vinegar to clean and disinfect your microwave so you don't have to buy some fancy cleaner.
Price: $8.79
Why this is a kitchen must-have: No need to use harsh chemical cleaners to clean and disinfect your microwave. Simply use water and vinegar and let the angry mama go to work.
Warm drinks are nice during the colder months, but you want an iced cold drink during the hot summer months. Sometimes you just don't have the time to wait for your drinks to cool to that perfect temperature and that's where this gadget comes in. In seconds you will have an iced cold beverage to quench your thirst.
Price: $24.99
Why this is a kitchen must-have: To make this gadget even cooler (pun intended), it's also dishwasher safe, so it's easy to clean.
The problem with a lot of kitchen scales is that you have to put another container on it, zero out the scale, and then you can measure out your food or ingredients. This scale has a convenient measuring cup attached so you can simply add in your food and measure.
Price: $23.98
Why this is a kitchen must-have: The attached measuring cup easily detaches from the electric scale for easy washing in between uses.
With great appliances and gadgets like these, time in the kitchen doesn't have to be a chore. Even something that is often seen as a lot of work, like composting, can be done in no time at all. Using an electric composter like Lomi can make composting quick and easy without stinking up your kitchen. Users are raving about Lomi and how it is a must-have kitchen appliance. Time to upgrade your kitchen space and make your life easier. Happy shopping!
Written by: Sarah Kendal
17 kitchen gadgets and appliances every home cook should invest in, according to professional chefs
When you buy through our links, Insider may earn an affiliate commission. Learn more.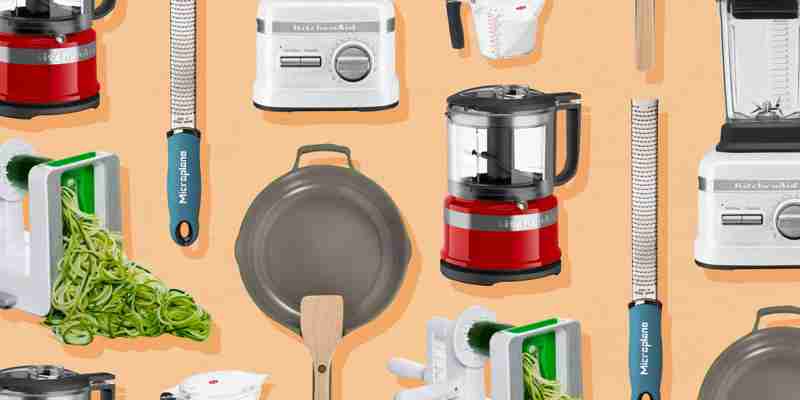 It's challenging to cook every day, so we asked chefs about the tools they find most helpful.
Top picks include the KitchenAid stand mixer, a high-tech sous vide machine, and sharp knives.
Sign up for our newsletter to get honest reviews on top products & services — delivered weekly to your inbox. Loading Something is loading. Thanks for signing up! Access your favorite topics in a personalized feed while you're on the go. download the app Email address By clicking 'Sign up', you agree to receive marketing emails from Insider as well as other partner offers and accept our Terms of Service and Privacy Policy
Ever since I started cooking at home more often, I've been curious about how professional chefs and food experts make the most out of their time in the kitchen. So I reached out to 12 chefs from around the country and asked them to share the home cooking tools and appliances that they find themselves using most often.
While the list has its fair share of standbys (you can never go wrong with a KitchenAid mixer, or a high-quality set of sharp knives), there are also some curveball picks designed to upgrade your weekday meals to restaurant-quality (think specially-designed sauce spoons and breakfast sandwich-makers).
Here are 17 of the most useful kitchen tools and appliances, as recommended by 12 professional chefs: